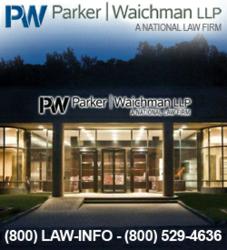 New York, New York (PRWEB) March 28, 2013
Parker Waichman LLP, a national law firm dedicated to protecting the rights of victims injured by defective medical devices, is weighing in on recent developments regarding the da Vinci surgical robot manufactured by Intuitive Surgical, Inc. According to a Bloomberg report published on March 26, 2013, Kitsap County Superior Court Judge Jay Roof denied Intuitives bid to throw out the lawsuit of Josette Taylor, who alleges that her late husband sustained serious and ultimately fatal injuries as a result of the da Vinci system; the case is Estate of Fred E. Taylor v. Intuitive Surgical, 09-2-03136-5, Superior Court, State of Washington, Kitsap County (Port Orchard).
We support the courts motion denying Intuitives bid to throw out this lawsuit, says Gary P. Falkowitz, a Managing Attorney at Parker Waichman LLP. Based on the mounting evidence of what seems to be deceptive marketing and poor training, it appears that Intuitive did not take proper action to protect patients who underwent surgery with the da Vinci. Anyone who has suffered potential complications after having surgery with the da Vinci, including cut bile cuts, bleeding, organ damage and damaged blood vessels, should contact our firm with any legal questions. Parker Waichman LLP offers free legal advice to patients who suffered alleged injuries that may have been caused by the robotic system and is actively seeking cases.
Taylors lawsuit alleges that Fred E. Taylor suffered from kidney failure, brain damage, permanent incontinence and a 1-inch tear in his rectum due to a prostatectomy with the da Vinci, Bloomberg reports. His family alleges that he died of heart failure as a result of the procedure. The suit alleges that Intuitive is to blame for inadequate training, because the doctor who made the mistakes had never performed a surgery with the da Vinci without supervision prior to operating on Mr. Taylor. The company tried to argue that they are not liable for a so-called educational malpractice claim, but Judge Roof ruled that the states product liability laws mandate device makers to properly train doctors who purchase their products. Therefore, the Judge ruled, Intuitive must face Taylors lawsuit seeking damages for harm allegedly caused by the improper marketing of the da Vinci surgical system.
On March 14, 2013 James T. Breeden, MD, President of the American Congress of Obstetricians and Gynecologists (ACOG) issued a statement on robotic surgery. The statement cautioned that just because robot-assisted surgery is heavily advertised to women for hysterectomies, they should be aware that surgery with the da Vinci is not the best minimally invasive approach for this procedure nor is it the most cost efficient. The statement also warned that there is a learning curve with robotic surgery, and that during this time there is an increased risk of complications. Breedens statement issued on behalf of ACOG, a group that represents 56,000 physicians, said that there is no good data proving that robotic hysterectomy is even as good aslet alone betterthan existing, and far less costly, minimally invasive alternatives.
This month, the Quality and Patient Safety Division of the Massachusetts Board of Registration in Medicine also issued an advisory on robot-assisted surgery in light of an increasing number of injury reports related to the system. The advisory cited three cases of patient complications, including bleeding, adhesions, damage to the bowel and ureter, and in one case a piece of rectal tissue was left inside the patients abdomen. The advisory said that healthcare facilities should focus more on training, proctoring and assessing credentials for surgeons performing robotic surgery and that patients should be better informed about the risks.
Parker Waichman LLP continues to offer free legal consultations to victims of da Vinci surgical robot injuries. If you or a loved one experienced surgical burns, perforated or torn organs, torn blood vessels or other injuries associated with the da Vinci surgical robot, please contact their office by visiting the firm's da Vinci Surgical Robot Lawsuit page at yourlawyer.com. Free case evaluations are also available by calling 1 800 LAW INFO (1-800-529-4636).
Contact:

Parker Waichman LLP

Gary Falkowitz, Managing Attorney

(800) LAW-INFO

(800) 529-4636

http://www.yourlawyer.com