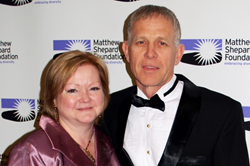 Fort Lauderdale, FL (PRWEB) April 20, 2015
Judy and Dennis Shepard, LGBT(Lesbian, Gay, Bisexual and Transgender) civil rights activists and co-founders of the Matthew Shepard Foundation, will receive the Harvey Milk Honors Medal award at the inaugural Diversity Honors gala co-presented by the Harvey Milk Foundation and The Pride Center at Equality Park and hosted by the Seminole Hard Rock Hotel & Casino in Hollywood, Florida on Saturday, May 9 at 7 p.m.
The Harvey Milk Foundation is proud to make history along with the Pride Center at Equality Park to debut this event which will celebrate the power and resolve of adversity, said Stuart Milk, co-founder and president of the Harvey Milk Foundation. There has been a tremendous amount of progress for equal rights and acceptance around the world, but we have a lot more work to do. This event will allow us to showcase our achievements and celebrate those who have and continue to advocate for equality.
In October 1998, Judy and Dennis Shepard lost their 21 year-old son, Matthew, to a murder motivated by anti-gay hate. Matthews death moved thousands of people around the world to attend vigils and rallies in his memory. Determined to prevent others from suffering their sons fate, Judy and Dennis decided to turn their grief into action and established the Matthew Shepard Foundation. The Foundation is dedicated to working toward the causes championed by Matthew during his life: social justice, diversity awareness & education, and equality for gay, lesbian, bisexual and transgender people.
Judy Shepard is the founding president of the Matthew Shepard Foundation Board of Directors, and served as its first executive director from 1999 to 2009. In her continuing role as board president, she and Dennis travel across the nation speaking to audiences about what they can do as individuals and communities to make this world a more accepting place for everyone, regardless of race, religion, ethnicity, sex, gender identity and expression or sexual orientation. Speaking from a mothers perspective, Judy also authored a 2009 memoir, The Meaning of Matthew, exploring the familys journey through the prosecution of Matthews assailants, the ensuing media coverage, and their continuing work to advance civil rights. She and Dennis continue to make their home in Casper, Wyoming.
Emceed by WSVN-TVs Craig Stevens, the gala will also celebrate South Florida leaders who have made a significant impact on improving the quality of life for the LGBT community. These forces for change include worldwide celebrity entertainer, spokesperson and human rights activist Elaine Lancaster (James Davis), President and Founder of the Palm Beach County Human Rights Council Rand Hoch, nationally recognized teen activist and honorary co-founder of the Transkids Purple Rainbow Foundation Jazz Jennings, CEO of Planned Parenthood of South Florida Lillian Tamayo, 11th Judicial Circuit Court of Florida Miami Judge William Thomas and Fort Lauderdale Commissioner Dean Trantalis.
We couldnt be prouder to co-present an event that showcases leadership in diversity and equality in South Florida and beyond, said Robert Boo, chief executive officer at The Pride Center at Equality Park. The Pride Center at Equality Park has a long history of being at the forefront of promoting positive gay role models and this event symbolizes our strong commitment to those we serve and our generous supporters who stand behind our mission.
As part of the celebration, Diversity Honors will offer a front and center opportunity to hear about the need for more education, greater acceptance and advocacy for equal rights from Stuart Milk, nephew of the late civil rights icon, Harvey Milk (1930-1978), one of the first openly gay elected officials in the United States who was assassinated after winning a seat on the San Francisco Board of Supervisors. Stuart has spearheaded or played a vital role in award winning programing in 47 countries in support of the LGBT community and human rights.
Diversity Honors sponsors include Serendipity Foundation, Ketel One, Whole Foods, Johnnie Walker, WSVN-TV, GPR | Goodman Public Relations, Mark Griffis, Over the Top Rental Linens and Seminole Hard Rock Hotel & Casino Hollywood. Media sponsors include Hotspots Magazine, Agenda, Genre Latino, Guy Magazine, Marks List, She Magazine, South Florida Gay News, The Mirror and Wire.
Tickets for Diversity Honors are $ 150 per person. For reservations, visit http://www.diversityhonors.com. For more information about the Harvey Milk Foundation, please visit http://www.milkfoundation.org. For more information about The Pride Center at Equality Park, visit http://www.pridecenterflorida.org.
# # #