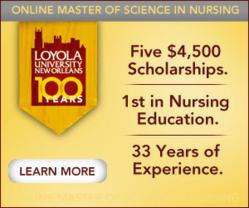 New Orleans, LA (PRWEB) March 21, 2013
Celebrating 100 years of university success and 33 years of leadership in nurse education, Loyola University New Orleans recently announced Judy Servido of Tampa, Florida as a $ 4,500 scholarship recipient for its online Master of Science in Nursing degree program. Servido is one of five scholarship recipients enrolling in the online Master of Science in Nursing degree program that began Jan. 7, 2013, and one of 15 total recipients of the award since it began in April 2012.
When I was encouraged to apply (for the scholarship), I had no expectation of winning one of these coveted awards, wrote Judy Servido, R.N., when notified of her selection as a scholarship recipient. Being a recipient of a scholarship only makes me want to do my very best I am fully committed to giving it the honor it deserves by succeeding at Loyola.
Candidates applying for the scholarship were asked to submit an essay of 200 to 300 words or less, explain what nursing meant to them, and how an MSN with a specialization in Health Care Systems Management would benefit or help further their career goals. The School of Nursing will continue offering the $ 4,500 to new students enrolling in the summer term beginning May 13, 2013. All submissions along with completed applications must be received by April 1, 2013.
Registered nurses who are ready to explore the advanced career options made possible with a nursing masters degree can apply for the next round of scholarships to attend Loyolas highly honored, online MSN program by visiting scholarship.elearning.loyno.edu/msn. All submissions will be reviewed by faculty and winners will be announced by April 15, 2013. For more information, or to request a scheduled interview, please call toll-free 866-789-9809 or visit http://scholarship.elearning.loyno.edu/msn/.
About Loyola University New Orleans:

Chartered in 1912, Loyola University New Orleans is one of 28 Jesuit colleges and universities in the United States and the largest Jesuit institution in the South. The 2013 edition of the U.S. News & World Report Top Online Education Programs guide singled out the Loyola University New Orleans School of Nursing as one of the best online nursing graduate programs in the country. The publication has also ranked Loyola among the top 10 regional universities in the South for the last 22 consecutive years. The fully National League for Nursing Accrediting Commission-accredited online Master of Science in Nursing program currently serves students throughout the United States and in several foreign countries. Loyola University New Orleans is a not-for-profit, Catholic Jesuit institution welcoming students of all faiths.