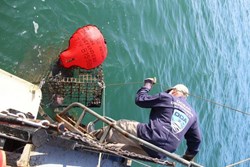 (PRWEB) January 10, 2014
Ocean Defenders Alliance recently introduced Operation Deep Sweep, a large-scale clean-up effort centered in the waters off of the Channel Islands off of the coast of Ventura County, California. Animal Support and its cofounders — Dr. Michael Omidi, Maria Abaca, and Julian Omidi recently signed on as supporters of the Alliance and are excited about this terrific and sorely needed operation.
Were very excited about Operation Deep Sweep, and we are honored to support the Ocean Defenders Alliance and the fantastic work they do, says Dr. Michael Omidi, cofounder of Animal Support. So often, environmental awareness stops at the shoreline since we arent able to see the distress at the bottom of the ocean first-hand. But the ecological ramifications of seafloor pollution are enormous, and we applaud Ocean Defenders Alliance for not only the hands-on work they do cleaning away the debris and refuse, but also their educational programs and awareness campaigns.
Operation Deep Sweep sets out to clear debris left by commercial fishing operations, as well as study the type of refuse left on the ocean floor and the effect it has on the ecosystem. Marine biologists and other oceanic agency representatives will accompany the crew in order to study cleanup techniques and processes, as well as help the volunteer prioritize the cleanup locations.
The project will also include local businesses and community members, so that everyone has the opportunity to not only help with the effort, but also learn about ocean conservation and preservation.
Operation Deep Sweep is largely funded by television personality Bob Barker, a longtime advocate for environmental responsibility and animal welfare.
Since 2002, Ocean Defenders Alliance (http://www.oceandefenders.org) has gathered and disposed of thousands of pounds of refuse on hundreds of excursions. Additionally, the Alliance conducts lectures and educational seminars at schools and marine clubs on the subject of ocean conservation, and also reaches out to seafood retailers to raise awareness of harmful commercial fishing practices.
Animal Support (http://www.animalsupport.org) is dedicated to addressing pet over-population and abuse by promoting charities working on behalf of animal well-being. The organization was founded by brothers Dr. Michael Omidi and Julian Omidi along with long-time friend Maria Abaca to advocate for animal protection, rescue, adoption, and spay and neuter laws. Animal Support does not accept donations but encourages direct contributions of money and talents to the charities and organizations featured on its website. For more information about Animal Support, send a message using the websites Contact Us function, check out Animal Support on Facebook, Twitter, Google+, and Pinterest.