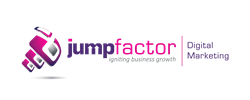 Toronto, ON (PRWEB) July 31, 2013
With the changes Google has enacted to alter the way businesses gain access to search engine results page (SERP), companies are struggling to keep their sites updated and achieve high rankings. Jumpfactor has analyzed the rankings of several hundred sites during the last six months of 2013 and has found several top seo ranking factors which are contributing to the results of these sites.
According to a Jumpfactor Digital Services Manager, By combining social media content, internal and external linking strategies, and on page techniques, we help companies become visible to their prospects through top placement in search engine results.
The Jumpfactor marketing specialist continued, saying over usage of exact match keyword anchors continues to penalize sites. Site speed and load time have a stronger relevance to site ranking than before.
These same findings have been echoed by reputable search engine experts, including Search Engine Land, which reported their findings this year as well.
The company has been using these techniques since they started offering SEO services to their clients. The data from the analytics they have collected prove that these techniques achieve positive results. A new aspect that Jumpfactor has seen is the impact of Google+ on search engine rankings. Authors who are on Google+ and articles mentioned on Google+ are listed favorably on Google search engine results pages.
As Google plans on creating more changes to search results in the future, companies need to understand and utilize these strategies now. This will avoid businesses seeing their rankings suffer due to current or future Google algorithm changes.
The marketing team at Jumpfactor leverages their experience in marketing to offer quality services to organizations requiring online exposure. These companies need to be able to provide clients with quality content such as white papers, case studies, and online articles to show thought leadership.
Have a look at the summary of top seo ranking factors here, and get in touch for an seo strategy plan today.
About Jumpfactor Digital
Jumpfactor is an award winning digital agency focused on maximizing return on investment for their clients. The core services are geared towards enterprises, brands, and high growth organizations. Jumpfactor specializes in search engine optimization, content marketing, social media marketing, and marketing automation. The company has offices in Canada, USA, and India.