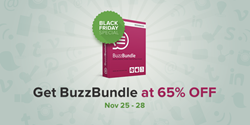 (PRWEB) November 25, 2014
Software developer Link-Assistant.Com has discounted its BuzzBundle SMM tool, which is now being offered at 65% off as part of the company's holiday special. The offer will last from November 25 to November 28.
"The holidays are a time to buy and sell, while some can use them wisely to kill the 2 birds with one stone", says Erin Madison, user customer manager at Link-Assistant.Com. "And this is what makes the BuzzBundle sale so special: marketers get a real bargain on the social buzz app they can later use to sell more of their own products".
*What BuzzBundle does*
BuzzBundle is a social media marketing tool that covers everything an SMM manager normally does as part of their day-to-day activities:


Social listening (finding relevant brand mentions across social networks)
Social posting (the SMM app allows to post messages, images and videos to social networks)
Effortless switching between accounts (an SMM manager normally has to juggle multiple social accounts, and BuzzBundle spares one the need to log in or log out of services)
Delayed posting (it's convenient to be able to feed all the posts for the day into BuzzBundle at once, and schedule them to be posted evenly through pre-set time intervals).
BuzzBundle currently supports Facebook (corporate and personal accounts), Google+ (corporate and personal accounts), Twitter, LinkedIn, YouTube and certain blog and forum platforms.
BuzzBundle is also sometimes called a reputation management tool, because it effectively allows one to manage what's being said about their brand online, reply to tweets and messages, handle personal messages and save important posts to favorites.
*The BuzzBundle sale terms*
The BuzzBundle sale begins on November the 25th and will run through November the 28th. The Professional version of BuzzBundle is going to be offered at 65% off (that is, only $ 87 instead of the normal $ 249). The countdown clock that shows how much time is left till the sale end is available at http://www.link-assistant.com/buzzbundle/black-friday-sale.html
*About Link-Assistant.Com*
Link-Assistant.Com is a software house with almost a decades experience providing online marketing tools for bloggers, companies and agencies. Launched in 2005, the companys best-known toolkit, SEO PowerSuite, is presently used by over 500,000 people worldwide to make their website visible in search engines. In 2012, the company launched its flagship SMM product BuzzBundle – that let marketers create more social buzz single-handedly than any person could ever produce.
The company has recently updated user experience for the Dutch-speaking users of SEO PowerSuite, with the new version of its Dutch site, seopowersuite.nl, released not long ago.