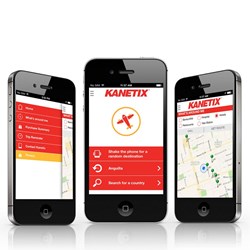 Toronto, Ontario (PRWEB) October 28, 2013
KANETIX is excited to announce today its newly updated Travel App to enhance the travelling experience for Canadians. Now iPhone, iPad and iPod device owners will be able to enjoy their trip; by purchasing travel insurance and finding destinations while travelling.
The free reloaded Travel App features an easy-to-use menu for travellers to virtually find anything and everything they need while away with the use of their mobile device. Travellers can also obtain up to five travel insurance quotes in ranking order from low to high as well as obtaining quotes for a single trip, multitrip, all inclusive and trip cancellation insurance coverage.
KANETIXs Travel App gives consumers the ability to seamlessly shop and purchase travel insurance while on the go, says Andrew Lo, chief information officer, KANETIX.ca. The new features of this app will also help consumers to find the amenities they need to enjoy their vacation.
KANETIXs Travel App now features Google Places, a feature which will give consumers the option to find the nearest: