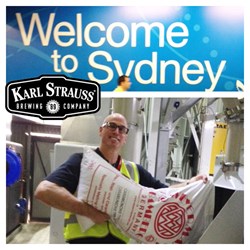 San Diego, CA (PRWEB) February 21, 2014
Karl Strauss Brewing Company is celebrating 25 years of crafting the San Diego scene with a nod to its rootsa collaboration with the Australian brewery that inspired San Diegos craft beer revolution. Karl Strauss Cofounder, Chris Cramer, first experienced microbrewed beer when he was visiting Freemantle, Australia in the mid 1980s. Here I was, halfway around the world, in a city so similar to San Diego, enjoying a pint of bitters at the local Sail & Anchor Pub. The beer was unlike anything I had ever tasted and when I found out that it was brewed onsite, a light bulb went off, says Chris Cramer. I knew that adventurous San Diegans would embrace the idea of locally brewed beer, and 25 years later, its amazing to see what our industry has grown into. To commemorate the milestone anniversary, Karl Strauss Brewmaster, Paul Segura, braved the 20-hour flight to Australia to collaborate with S ail & Anchor Pub on a cross-hemisphere inspired brew.
It was amazing to have the opportunity to collaborate with one of Australias craft brewing pioneers and to bring the story full circle with a nod to where Karl Strauss Brewing Company was first incepted, says Paul Segura, Brewmaster. Dubbed The Bloke, the collaboration brew is a tribute to Karl Strauss and his legendary international brewing legacy. The collaboration brew is a bold, hoppy red aleshowcasing a blend of West Coast and Australian hop varieties. We thought it would be fun to take a style were known forred aleand hop the heck out of it. We brought Cascade and Chinook hops to the party and Sail & Anchor contributed Australian-grown Ella and Galaxy hops, says Segura. The resulting brew is 6% ABV, dry as a bone, and assertively hoppy.
Six 100-hectoliter batches of The Bloke were brewed and 2,700 cases will be available across Australia in 12oz bottles. Karl Strauss Brewing Company will receive an extremely limited quantity of bottles available for sampling in its tasting room in late March. For more information about The Bloke and the story behind the collaboration, visit http://www.karlstrauss.com. Share it.

Cheers.
Stats:

6% ABV

60 IBU
###
About Karl Strauss Brewing Company

Karl Strauss Brewing Company has pioneered the San Diego beer scene since 1989 with innovative beer releases like Big Barrel IIPA and Wreck Alley Imperial Stout. The brewery has won 54 medals over the past three years and its Red Trolley Ale is one of the most award winning beers in the world. The company is currently ranked #39 on the list of the countrys top craft breweries with sole distribution in California. 2014 is on pace to be another exciting year of double-digit sales growth, with the main brewery tasting room and new brewery restaurant in Temecula now open. For more information visit http://www.karlstrauss.com or call the brewery at (858) 273-2739. Share it. Cheers.