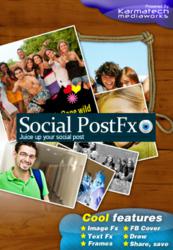 (PRWEB) September 20, 2012
Karmatech today launched Social PostFX for IOS which will enable users to pump life into their posts, its bound to make people take notice of your posts and respond to it.
The aim is to provide the users with a simple tool to create inspiring picture messages with quick to apply photo effects and plenty of fonts to choose from.
Whats more? it even lets the users combine up to 9 images to make a spectacular Facebook cover image in an instance; with over 30 cover frames to choose from, users can have a new cover every day. Every social network junkie needs Socialpost FX, the Android and Facebook version of the app will be released shortly.
The app has the following features:-


Over 10 frames to create stunning Facebook Timeline cover images.
Over 35 spectacular photo effects
Create Timeline covers by combining up to 6 photos in a single frame.
Add Photos and text labels to your social posts (plenty of fonts, square, rounded and torn tape labels, adjust the colour of the text and label).
More than 15 photo frames to choose from