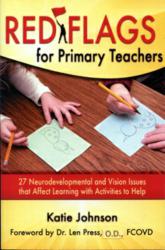 Seattle, WA (PRWEB) May 21, 2013
Need a book that will solve many childrens reading problems?
Katie Johnson's new book, Red Flags for Primary Teachers: 27 Neurodevelopmental and Vision Issues that Affect Learning With Activities to Help, just published by Tendril Press, can help teachers of the primary grades with their struggling readers. Chip Wood, well-known advocate for child-centered education and author of the very useful Yardsticks book, wrote that Red Flags " … is designed to provide dozens of specific activities and strategies from the field of vision and neuro-motor patterning that can make significant differences in the reading and writing careers of elementary school students. Katie does this in a no-frills, straightforward style…."
Katie Johnson, author of Doing Words (originally published by Houghton Mifflin Co. in 1987), has written an easy-to-use handbook for teachers with descriptions of reading problems and suggestions for resolving them.
Come into Katie Johnsons world, the world of six- and seven-year-olds and how they think and move.
After forty years of teaching children how to read and write in first grades all over the country, she has seen many puzzles. If you are a teacher of young children, or a parent of a beginning reader, you may have been puzzled by such children too. "Reading this small gem of a book is like listening to a teacher down the hall share a great idea," says John Hickey, special ed teacher in Dedham, Massachusetts.
Why cant some of them read? Why do children