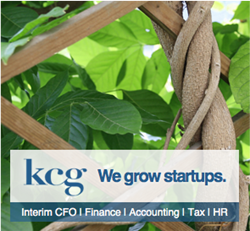 San Mateo, CA (PRWEB) October 02, 2014
Keating Consulting Group (KCG), a Silicon Valley/San Francisco-based financial, accounting, and tax services firm providing interim CFO, accounting, controller, bookkeeping, and HR support to startups and early-stage companies, today announced a new initiative with San Francisco-based Kohler Law Group as a preferred legal services partner for its startup clients. The partnership extends KCGs current startup support offerings by providing an affordable and easy solution for comprehensive legal needs.
Kohler Law Groups unique virtual law firm approach provides an affordable alternative for day-to-day legal support and documents at a fraction of the cost of larger traditional firms. The firm was founded over 15 years ago and has grown to represent 100s of venture-backed and publicly traded technology companies worldwide.
We are a virtual firm, explains Robert Kohler, the firms Principal, so our costs are a fraction of other firms, and we pass the great economics on to our clients. We provide experienced former in-house General Counsel/Senior Counsel attorneys, most of whom all grew up in large tech companies or major firms, for the same hourly rate as a first year associate at other firms. We think weve nailed the model, and our clients save over 50% on legal fees.
Ryan Keating, Managing Partner at KCG, explains, Just as our startup clients use KCG as Interim CFO, they can consider Kohler their Interim General Counsel. Its a really smart model – perfect for startups. Our clients can get ongoing top-notch legal counsel, along with all the legal documents they need – software license agreements, privacy policies, contracts – done right and at a fraction of the cost of larger firms.
Adds Kohler, Like KCG, we are flexible depending on the needs of the client. We can draft high-quality, one-time contracts and agreements with quick turnaround, or we can provide ongoing quasi-inhouse legal counsel, becoming a key member of the management team.
As the acting interim CFO for several startups, Keating explains we are maniacally focused on cash flow for our clients and making sure that every penny is spent wisely. Every startup needs some amount of quality legal work and guidance, yet it is hard for a startup to swallow paying a traditional law firm $ 400-500 per hour for the majority of their basic legal needs. Kohler solves this for us and our clients. We are excited to work with them
*******************

About Keating Consulting Group:

KCG provides outsourced CFO, accounting, bookkeeping, controller, tax strategy and filing, and HR services for venture, private equity, or angel funded startup companies. KCG supports funded startups who do not require full staffing for back office operations with a turn key financial services team to manage day-to-day CFO, accounting and HR needs. Many top venture capital firms in the Silicon Valley refer KCG to provide interim CFO services, finance, accounting and HR support for their portfolio companies.
About Kohler Law Group:

Headquartered in San Francisco, CA, and serving the wider SF Bay Area and Silicon Valley, Kohler Law Group is a virtual law firm providing lower-cost day-to-day legal services for growing businesses. All Kohler attorneys have no less than 15 years of relevant experience and have worked in-house at top notch technology companies as either General Counsel or Senior Counsel. Kohler Law attorneys have attended schools such as Harvard, Stanford, Columbia, University of Michigan, Hastings and UC Berkeley, have worked in nearly all of the prestigious large law firms, and most importantly, have worked in-house at companies such as Apple, IBM, Rambus, Cirrus Logic, Intel, Adaptec, Advent, Brocade, Hyperion, Intermune, Arvesta, Wells Fargo, LoopNet, AventGo, Yahoo and many more.