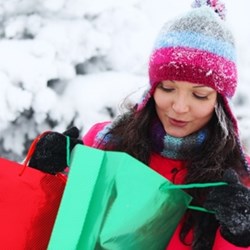 Denver, CO (PRWEB) December 24, 2013
Lightning Labels, leader in printing custom labels and stickers, is encouraging brands to use unique label ideas to keep holiday customers long after they've purchased gifts for Christmas, Chanukah and other celebrations. Now that the busy shopping season is winding down, retailers are looking for ways to maintain new customers brought in by the holiday shopping season. Businesses can do this by creating promotional labels in a way that refreshes branding.
"The period of time following the holidays is of particular importance to retailers," said AnneMarie Campbell, Business Development Manager at Lightning Labels. "Using a good labeling strategy is especially important during this transitional time, when spending is likely to be low. Businesses can create an innovative label that commands attention when products may need it most, which can engage retailers during the early winter months."
By making labels that are relevant after the holidays, businesses can encourage consumers they acquired during the rush to continue purchasing from them and can create an incentive for customers to remain loyal to the brands they have just discovered.
Design Holiday Promotional Labels that Resonate with Shoppers Year-Round:

Businesses can design holiday promotional labels that will still be appropriate once the season is over. Many retailers put a lot of resources into seasonal marketing. To sell the items that remain after the gift-giving season is over, business owners end up slashing prices and failing to see a return on investment. Instead, brands can refresh products with imagery and colors that don't necessarily relate to the holidays. Winter-themed labels are popular for holiday shoppers and will still seem relevant to consumers for a number of months.
Create Promotional Labels for Holidays with Customer Retention in Mind:

When making promotional labels for holidays, it's important to remember this time of year presents a good opportunity for businesses to expand their customer base. New consumers may not be totally familiar with the brand, so take this opportunity to reach out to them. Make sure labels communicate where to find the business online, including any social media channels. Labels can also contain a call to action that asks buyers to friend the company on Facebook or become a follower on Twitter. Labels can also direct consumers to brand website pages that provide contact information, company history and more.
Use a Trusted Label Printer to Demonstrate Quality:

High-quality holiday labels from Lightning Labels demonstrate that a brand is worth revisiting throughout the year. Using durable materials and high-resolution graphics that truly attract attention will help businesses propel their way through 2014. Right now free ground shipping is available from Lightning Labels through December 31, 2013, applying to orders shipped within the U.S. and Canada. Visit Lightning Labels for more information or updated promotions.
About Lightning Labels:

Lightning Labels uses state-of-the-art printing technology to provide affordable, full-color custom labels and custom stickers of all shapes and sizes, and now offers a full line of custom packaging products. From small orders for individuals, to the bulk needs of big businesses, Lightning Labels is equipped to handle and fulfill sticker, label and product packaging projects of all types. Best of all, like the name implies, Lightning Labels provides a quick turnaround to every customers' labeling and product packaging needs. Uses for Lightning Labels' custom product labels and custom stickers include food packaging and organic food labels, wine and beverage labels, bath and body labels, and nutraceutical products, such as vitamins, essentials oils, and herbal remedies, as well as event stickers, adhesive window stickers and more. Lightning Labels strongly supports the development of environmentally friendly printing materials and carries EarthFirst PLA, a new kind of green label material made from corn instead of petroleum. While operating as a high-tech printer, Lighting Labels prides itself on its personalized customer service. Lightning Labels provides one stop shopping for all of your label and product packaging needs. For more information and to place orders online, visit LightningLabels.com. For the latest in packaging news and labeling promotional offers, find Lightning Labels on Twitter (@LightningLabels), Facebook, Pinterest, Google+ and LinkedIn.