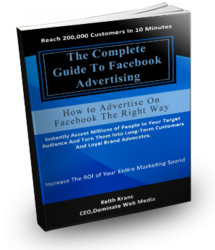 Seattle, WA (PRWEB) September 06, 2012
In The Complete Guide To Facebook Advertising Keith explains in great detail the differences between Facebook and Google. People do not go on Facebook to buy things, they are more likely to go to Google for that.
He uses a great example of how Facebook is more like the coffee shop or the party, and Google is more like the Yellow Pages. Everybody hates "that guy" or "that woman" who you meet at a party for the first time, and they start pitching their product or service 5 minutes after they shake your hand.
You don't go to a party just to make a sale. However, some of the biggest sales and biggest deals ever have been made as a result of two people meeting at a party or a coffee shop.
Keith explains in great detail how to use this same phenomenon with Facebook advertising, and how to set up the right systems and processes to assure profitable Facebook PPC campaigns.
For those people who are not ready to purchase a book quite yet, Keith also has a free online 5 day Facebook Advertising Boot Camp that you can register for at his website.
If you would like to preview his book you can go check it out on Amazon here: The Complete Guide To Facebook Advertising..
Keith is the CEO of Dominate Web Media, an internet marketing agency and consulting and training company. Dominate Web Media is also the parent company of SEO Domination Now and ROI Website Design.