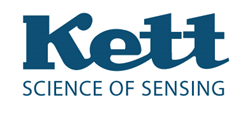 Appleton, Wis. (PRWEB) February 04, 2015
Weidert Group, Inc., a nationally recognized inbound marketing agency based in Northeast Wisconsin, is pleased to announce it has been selected as the inbound marketing partner for Kett US, the worlds leading provider of award-winning portable handheld moisture, friction, and rice testing instrumentation.
Kett US sells and services their specialized measurement and analytics equipment directly to manufacturers in the Americas and in industries such as food processing, personal care products, rice and grain, and pulp and paper, where precise moisture and friction measurements are critical to achieving maximum production efficiencies.
Weve been following the Weidert Group blog for some time, said John Bogart, Managing Director of Kett US, and ultimately became convinced that inbound marketing, executed with Weidert Groups help, was the right strategy to achieve our aggressive growth goals.
Weidert Group will provide Kett US with all of the components that support a comprehensive inbound marketing program, including expanded strategy development and program advancement, as well as content creation assistance, social media engagement, and lead nurturing.
Were excited and honored to be helping the Kett US team, said Weidert Groups president Greg Linnemanstons. They have a great story of technological innovation and service, and inbound is the best way to make that story visible to their best North American prospects.
About Weidert Group

Weidert Group, founded in 1981, is a full-service inbound marketing agency and has been a HubSpot Agency Partner since 2011, having achieved Gold Certification in 2012. HubSpot is the leading marketing automation software, with over 11,000 customers in 70 countries. Weidert Group provides all components of an effective inbound marketing effort, including web design, search engine optimization, content strategy, social media promotion, lead nurturing, and overall marketing management. Clients represent primarily business-to-business organizations in equipment & machinery manufacturing, financial services, insurance, A/E/C industrial services, industrial distribution and other industries.
About Kett US

Kett US is the worldwide leader in measurement instrumentation, and the only company offering more than 100 instruments for moisture meters, composition measurement and grain processing measurement. Models are available for handheld, desktop and inline/online continuous measurement applications. Kett US is headquartered in Anaheim, California.