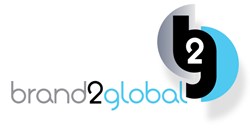 London, England (PRWEB UK) 1 August 2013
The pioneer of exploring the role of local cultures in global business, Dr. Geert Hofstede, will give the keynote address at Brand2Global Conference in London this September. Dr. Hofstedes speech, "Markets are People", will give the audience of global marketers unique insights into how local cultures differ and how to build global brand strategies based on the local consumer.
Localization Institute President, Ulrich Henes, commented: Though this may be one of the first of its kind, Brand2Global Conference seeks to make a positive impact on the industry. We want to create conversations in the corporate world about how to best leverage global branding, marketing, e-commerce and social media for global market success.
Brand2Global: The Global Marketing Conference is being held 16-18 September in London. This exciting new event is specifically designed for executives who drive global marketing activities and are responsible for international market share and revenue. The conference will address key global branding and marketing issues such as brand awareness with geographic specificity, along with best practices on global marketing and digital media. Additionally, conference-goers will have the opportunity to network with peers at the conference and during an exclusive Dinner cruise on the Thames. REGISTER NOW.
Organizers, the Localization Institute, are working in collaboration with key sponsors including Chief Marketing Officer Council, Global Marketing Network, Branded Content Marketing Association, BrandMaker & The Boeing Institute of International Business at St Louis University.
Attendees will hear directly about real challenges and solutions facing global marketing practitioners from a rich mix of top executives, analysts, consultants and experts. Confirmed speakers include representatives from organizations such as Accenture, Aston Martin, Badoo, BBC, Boeing, Cisco, Facebook, Google, Hewlett-Packard, KLM, LEWIS PR, London School of Economics, Pfizer, Philips, Shiseido, SAP, TATA and many more. Registration and further information about can be found at http://www.brand2global.com.
About Brand2Global

This innovative conference will give marketers the tools, access and resources to push global marketing strategy and elevate global brand awareness and understanding of the evolving global digital media landscape. For more information on Brand2Global:

Visit the conference website at: http://www.brand2global.com

Follow us on Twitter: https://twitter.com/brand2global

Join the LinkedIn group: http://www.linkedin.com/groups?gid=4794094&trk=myg_ugrp_ovr