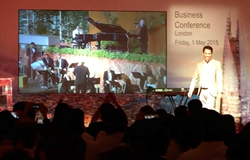 London (PRWEB) May 21, 2015
Grammy-nominated performer and keynote speaker Freddie Ravel delivered the global debut of his motivational presentation designed to elevate sales and marketing success through music at AIAs international sales conference in London earlier this month.
Ravels unique keynote combined speaking with live piano performance, backed by a full symphonic orchestra projected on-screen, to inspire and reveal the sound of successful communication, collaboration and sales.
Tim Marriott, U.K. Chief Agency Officer of AIA, said Ravel rocked our conference with powerful, relevant messages delivered magnificently. (He is) a rare talent, a fantastic pianist, and a fantastic showman.
Ravels energetic and engaging presentations have empowered and inspired employees at organizations from Google to Citibank, and NASA to Walmart. He believes music is the ultimate communication tool to raise human potential. In his keynote, he provides his audience with tools for listening more effectively which he describes as understanding the space between the notes to enhance communication.
Music is the worlds undisputed international language, says Ravel, and when applied to business, there is a rhythm of success in its flow, momentum, cadence, time and tempo. When teams are truly in sync and in tune, they thrive.
For over two decades, Ravel has delighted audiences with his distinctive approach to music. He has performed across six continents — from the heart of the Amazon to the boardrooms of corporate America and for such leaders as the Prime Minister of India and the King of Thailand.
His number one hits and collaborations include producing, recording and composing with such diverse musical luminaries as Earth, Wind and Fire, Madonna, Prince, Yo-Yo Ma, Indie Arie, Quincy Jones, the Boston Pops and rock legend Carlos Santana.
Ravel is available for corporate appearances. For information, contact Li Hayes at Go Leeward +1 203-314-2441 or SID(at)goleeward(dot)com.