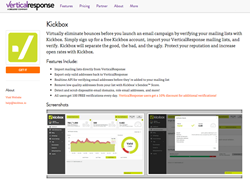 Dallas, TX (PRWEB) March 30, 2015
Kickbox, an emerging leader in email verification, today announced integration with VerticalResponse, a business unit of Deluxe Corporation, and its Integrations Marketplace suite of online marketing tools. The resulting integration will enable small to medium-sized businesses to validate email addresses prior to sending email. Kickbox guarantees a minimum 95% deliverability rate by virtually eliminating email bounces before an email marketing campaign is launched. Kickbox is featured in VerticalResponse's Integrations Marketplace, an online resource that connects small businesses with tools and services for growing their business.
According to a recent study by Folio, the top 3 pain points facing email marketers include List Growth (54%), Dynamic Content and Personalization (42%) and List Maintenance (41%). Given these issues, it is no surprise Improving List/Data Quality is among the top two priorities for 2015. Kickboxs email verification service makes list maintenance simple by separating invalid and low-quality addresses from an email list.
When an email bounces, everybody loses, says Dan Stevens, founder and CEO at Kickbox. A bounced message costs the small business money and, worse still, it can damage the business email reputation – sometimes irreversibly. We are thrilled to be working with VerticalResponse. The integration will help their customers curate higher quality email lists resulting in lower costs with better results, Stevens added.
This new partnership allows VerticalResponse users to easily import their email list into Kickboxs verification platform to improve email list quality with a click of a button. As a result, marketers can protect their digital reputation and expect an immediate boost in overall email performance, including increased deliverability, higher open rates and a lower bounce rate.
Thanks to our new integration with Kickbox, small businesses no longer need to worry about the quality of their email marketing lists, said David Williams, VerticalResponse Senior Vice President of Product and Marketing. Instead, they can focus on sending email newsletters, promotions, event invitations and other messages to stay top-of-mind with their customers.
Kickbox is now open to all VerticalResponse users via the VerticalResponse Integrations Marketplace. Sign up for a Kickbox account to receive up to 100 verifications per day at no cost. VerticalResponse users get a discounted rate on additional verifications.
About Kickbox

Kickbox is a leading email verification service and email marketing solution provided by Saltt Innovative to ensure email marketers only send email to real users by separating low-quality addresses from high-value contacts. Kickbox protects the sender's digital reputation, increases deliverability, boosts open rates and saves money by removing bad addresses prior to sending an email campaign. Kickbox is headquartered in Dallas, TX.
About VerticalResponse

VerticalResponse, a business unit of Deluxe Corporation, provides a full suite of online marketing tools to help small businesses connect with their customers on email, social media, mobile and more. More than 1 million users worldwide have relied on the VerticalResponse platform to easily create, manage and analyze their own marketing campaigns, all from a single account. VerticalResponse is headquartered in San Francisco, CA.