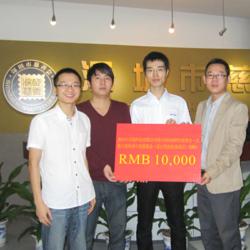 (PRWEB) December 02, 2012
On 30th, November, 2012, KIMREE came to the base of Shenzhen Charity Federation, and once again donated to support children dropouts to return to school in Liang Shan, Sichuan Province, China. The persons in marketing department represented and attended the activity.
KIMREEs marketing department executive Robert told the charity federations leaders: Our company has been the Number one in the industry. All of our clients almost live in Europe and USA, and other overseas countries. However, we do not ignore charity business while we are busy to make a profit in the business. Children are our future, and our nations hope. If the youth are wise, the country will be wise. If the youth are wealthy, the country will be wealthy. This is the third time we donate money to the dropouts in Liang Shan, Sichuan province. We hope that we could help many more dropout children get back to the classroom. We hope that there will be more enterprises in the electronic cigarette industry joining to do charity as well.
As the biggest electronic cigarette manufacturer, KIMREE has always been accepted by overseas clients with high-quality products, his competitors in the industry fall further behind in the fierce competitions. But KIMREE does not forget to give to charities, KIMREE deserves to be respected, do you agree?