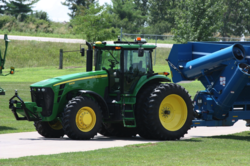 Blacksburg, VA (PRWEB) September 25, 2012
TORC Robotics announced delivery of ByWire drive-by-wire kits for the Kinze Autonomous Grain Cart System. The ByWire product retrofits vehicles to drive-by-wire control and provides a unified interface for remote and autonomous control. In partnership with Jaybridge Robotics, these kits are integrated with autonomous navigation technology to take the human element out of the tractor cab and increase farming productivity. Were excited to introduce the first truly autonomous row crop solution in the world on this scale, said Susanne Kinzenbaw Veatch, vice president and chief marketing officer at Kinze. This technology could be used to do a variety of tasks, including planting, nourishing, maintaining and harvesting crops. The Kinze Autonomous Grain Cart System is capable of performing a complete workflow during the harvest process. This includes locating a moving harvester in the field, synchronizing with it, collecting its grain and delivering that grain to trucks near the field for transportation.
TORCs ByWire drive-by-wire system is a fundamenal Robotic Building Block for retrofitting manned vehicles to remote and autonomous operation. TORCs Robotic Building Block product line is used across agriculture, mining, automotive, and defense markets to retrofit vehicles to remote control, teleoperation, and autonomous operation. Customers are using our products in some incredible applications. We have products and technologies enabling the blind to drive at the Daytona International Raceway, automating surface mining trucks in open pit mines, and protecting our warfighters in IED defeat missions in Afghanistan. Our partnership with Kinze and Jaybridge is a testament to the customer demand for robotics, says Michael Fleming, CEO of TORC Robotics.
About TORC Robotics

TORC enables engineers to rapidly integrate robotic systems through a suite of modular, customizable products. Leading academic, commercial and government organizations use the TORC Robotic Building Blocks product line to shorten the development process, lower costs and mitigate risks. These products are used on more than 100 mobile robots ranging from 15 pounds to 15 tons. TORC provides solutions for drive-by-wire conversion, emergency stop, power management, autonomous navigation and operator control. For more information, visit http://www.torcrobotics.com.
About Kinze Manufacturing

Founded more than 45 years ago on the premise of innovation, Kinze Manufacturing, Inc., markets its planters and grain carts globally and is known for a number of industry "firsts." Kinze operates with core values of integrity, customer focus, excellence, innovation and mutual respect. Kinze Manufacturing is the recognized technology leader and innovator of planters for row-crop production and grain auger carts. Kinze employees spend their nights and weekends farming, putting them in a unique position to be both manufacturers and customers of the planters and grain carts they build.
About Jaybridge Robotics

Jaybridge Robotics provides domain expertise, consultation, software and systems integration for autonomous vehicle design and development. The company works closely with their clients' engineering teams to fully transform their products into robust autonomous systems capable of reliably executing workflows even in harsh, real-world conditions. Jaybridge's state of the art capabilities include software, tools and expertise for vehicle motion, navigation, perception, control, precision visualization and intuitive human-robot interfaces. Founded by graduates of MIT and Carnegie Mellon university, Jaybridge applies exclusive, field-proven algorithms and open software to solve complex robotics challenges. Their seasoned in-house robotics team has deep industry and product development experience and a proven track record.