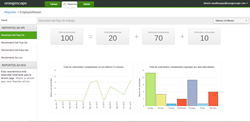 Mountain View, CA (PRWEB) July 17, 2013
OrangeScape announced today that it is accelerating the expansion and adoption of KiSSFLOW, its self-service workflow builder, in Latin America with the launch of KiSSFLOW Spanish version. KiSSFLOW users can easily switch to Spanish by choosing the locale option. KiSSFLOW is the first workflow builder app specifically designed for Google Apps and the #1 workflow product in its category in Google Enterprise Marketplace.
With KiSSFLOW, companies have automated their internal business workflows that flow through various departments such as Finance, HR, Marketing and Administration. KiSSFLOW already has a few hundred companies using, piloting and trialing the product with thousands of users across these companies in Latin America. says Suresh Sambandam, Founder and CEO, OrangeScape. Our ongoing effort is to increase the penetration in these emerging markets where product localization is key.
KISSFLOW has proved to be the ideal solution for the digitalization of processes and migration to the cloud at a good price. It is easy, fast and totally flexible, says Hector Garcia, Coordinador de Proyectos, Puerta de las Americas Zona Franca. KiSSFLOWs integration with Google apps, ease of use and Spanish interface makes KiSSFLOW, without a doubt, the best choice for process automation in a Latin American company like ours.
We've found an answer to improve what Google Apps is capable at work. KiSSFLOW allows us to fully harness and extend our capabilities on Googles cloud based infrastructure by automating our core, support and internal processes, says Diego Ossa, Gerente Global de Desarrollo Organizacional, Carvajal Tecnolog