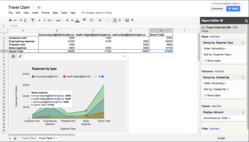 MOUNTAIN VIEW, Calif. (PRWEB) November 20, 2012
OrangeScape today announced it has enhanced KiSSFLOW, the top installed workflow creator app on Google Apps marketplace to export workflow data to Google spreadsheets. KiSSFLOW users can now slice and dice workflow data using analytics functionality into Google Spreadsheet and see them in a new light and gain important insights.
Our customers are Google Apps users, who are very comfortable with Google docs and spreadsheets. This significantly impacted the way we designed analytics functionality in KiSSFLOW. said Mani Doraisamy, Co-Founder and Chief Technology Officer of OrangeScape. "Instead of building our own interface for reports and analytics, we synchronize workflow tasks and data into Google spreadsheets in real-time and let users to use analytics gadget in Google Spreadsheet to slice and dice data. This reduces learning curve for Google Apps users to analyze data gathered in workflows."
Armed with comprehensive and accurate view of data, users can now suggest process and performance improvements in their existing workflows. By inserting a pivot table into spreadsheet, users can compare information such as expenses over time and sales volume by geography. Users can also include standard charts such as line charts, pie charts and sophisticated gadgets such as animated motion chart to show how data has changed over time. Such analytics can help users implement targeted improvements that align with rapidly changing business conditions.
Pricing

KiSSFLOW offers its customers three different plans to choose from: Free, Business and Enterprise. Analytics functionality is available in the Business edition and is offered for a trial period in the Free edition. The Free edition allows up to 10 users and 10 workflow processes. The Business edition allows up to 1,000 users and up to 100 processes. It is $ 3 per user monthly and $ 18 per workflow creator monthly. Full pricing and availability details can be found online. A free trial is available on the home page.
About OrangeScape

OrangeScape is a leading Platform as a Service (PaaS) company. Its PaaS solution enables the creation of cloud-based, SaaS or on-premise business applications. OrangeScape-based applications have been developed across nearly 100 application categories. OrangeScape also offers KiSSFLOW, the first workflow builder app specifically for Google Apps. With KiSSFLOW, businesses can easily create HR and business approval workflow processes in a few simple steps. OrangeScape has secured $ 1M in an angel bridge round of venture funding. The lead investor is former CEO of Yahoo