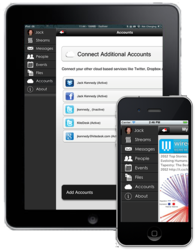 Tampa, FL (PRWEB) February 14, 2013
The web version of KiteDesk exited beta today and the company launched a mobile app for iOS users. KiteDesk, which is free on the web and for mobile, unites content from the most popular messaging, collaboration and social media services in a single searchable, shareable, commentable application. Easy to use and customize, KiteDesk is designed for busy consumers and professionals who use multiple cloud services. KiteDesk mobile can be found here.
KiteDesk brings users their favorite cloud services together in one application, so they can spend more time communicating and less time flipping between apps. Email messages, social media posts, contacts, files and calendar events from Dropbox, Facebook, Google, Twitter and Yahoo (Facebook and Yahoo integration are new since the public beta launch in Oct 2012) can be accessed, integrated, searched and shared, right from KiteDesks web or mobile application.
KiteDesk can be customized to create contextual cross-service streams for things like home remodel or work project, based on easy to set up tags and search terms. Streams appear as graphical file cards that identify when, for instance, a Twitter post was made, by whom and about what. Users can click cards to drill deeper or respond. The result is a single inbox, calendar, contact list and file cabinet for cloud services, simplifying access to users important information.
KiteDesk Main Features