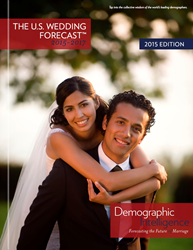 Charlottesville, Virginia (PRWEB) April 16, 2015
Two years in advance of the 2015 release of U.S. Marriage rates for 2012 by the CDC, the U.S. Marriage Forecast, published by Demographic Intelligence, accurately predicted 2012 marriages within 14,000.
Using advanced algorithms to determine the number of marriages, Demographic Intelligence has been able to forecast marriages at an astonishing accuracy rate 99.45%.
The U.S. Marriage Forecast provides projections of U.S. marriages from 2013-2025 and detailed breakdowns of marriages for 2013-2017 by income, education, race, and ethnicity.
This 2015 U.S. Wedding Forecast is based on a statistical model of marriages in the last two decades, generating insight into the key socioeconomic and cultural drivers of marriage in the U.S. The DI model may include measures of unemployment, consumer confidence, Google wedding search terms, and religiosityall key predictors of marriage in the United States. The DI forecast is especially valuable because federal marriage statistics are usually released a year or two after the date to which they apply, making official data of limited usefulness to the wedding industry.
Same Sex Marriage Rates

The most recent release of the U.S. Marriage Forecast includes an analysis of the impact of changing same-sex marriage trends in the United States.
About Demographic Intelligence

Demographic Intelligence (DI) is the premier provider of U.S. wedding trends and birth forecasts for businesses with an interest in marriage and birth trends in the United States. DI provides reports and consulting services to companies in the following sectors: jewelry, clothing, juvenile products, healthcare, media, financial services, consumer food, and household products. Past clients include Davids Bridal, Disney, Procter & Gamble, and Bain Capital. Demographic Intelligence is advised in its work by three leading demographers: Princeton economist Alicia Adsera, University of Pennsylvania demographer Hans-Peter Kohler, and University of North Carolina demographer Philip Morgan.
To Order the U.S. Marriage Forecast, contact: Demographic Intelligence 888-543-5277 Steve(at)USbirthrate(dot)com

http://www.usweddingforecast.com

http://www.demographicintel.com