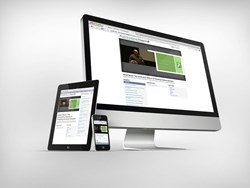 Lincoln, Massachusetts (PRWEB) September 30, 2013
One of the most important new trends in web design, responsive design is now beginning to move beyond websites into mobile content. In fact, responsive design is essential to making e-learning, marketing, and sales content as effective on mobile devices as it is on the desktop. Thats the conclusion of KnowledgeVision Systems CEO Michael Kolowich, as he discusses the companys mobile online presentation initiatives. The leader in online presentation technology will be introducing a series of new HTML5 player designs during the remainder of 2013 that provide an adaptive and consistent experience across a wide variety of desktop and mobile screens.
Responsive design is an approach to web design that adapts the way that website content is displayed to the screen resolution, orientation, and capabilities of the device on which its displayed.
Its no secret that content is being consumed with increasing frequency on mobile devices, from tablets to smart phones, observed Kolowich. Increasingly, viewers expect to have the same quality of experience across all the devices they use to learn, communicate, and collaborate. KnowledgeVision is committed to providing that consistency across all devices as part of its KnowledgeVision Anywhere initiative.
KnowledgeVision has been in front of the responsive design movement already, as our online presentation players detect and reformat content in different ways for desktop, iPad, and iPhone devices, Kolowich stated. The proliferation of mobile devices demands a much more comprehensive and standards-based solution, however. And thats what KnowledgeVision will introduce later this year.
KnowledgeVision has begun the limited testing of new media players and new publishing and design approaches based on the HTML5 standard. These players will bring a consistent experience to online presentation viewers, no matter what device they want to use.
Its tricky to support such a wide variety of devices, said KnowledgeVision co-founder Alex Kieft, who heads the companys engineering team. Some popular smart phones, for example, prevent other content from being displayed on the screen while a video stream is playing. Weve put a lot of thought into how to preserve the content-rich interactivity of the KnowledgeVision presentation experience, while taking the fullest possible advantage of any given devices capabilities.
KnowledgeVision Anywhere is available as a standard feature of KnowledgeVisions system, which is available in Enterprise, Corporate, Professional, and Basic Editions.
About KnowledgeVision
KnowledgeVision is single-mindedly focused on making online video work harder:

-to make it perform better as a content marketing tool;

-to make it more impactful as a sales tool;

-to make it more engaging as a learning tool; and

-to make it more effective as a corporate communications tool.
More than 25,000 companies and individuals all over the world use KnowledgeVisions tools to create, share and track synchronized online video and audio presentations, and make them available from web browsers and mobile devices anytime, anywhere.
KnowledgeVision Systems is a venture-backed company based in Lincoln, Massachusetts.