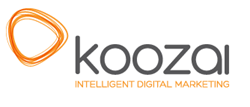 (PRWEB UK) 15 November 2013
Leading UK Digital Marketing Agency, Koozai, are pleased to reveal that they have taken the crown in the Best Blog category at the UK Search Awards 2013.
Taking place at the Emirates Stadium in London, the Digital Marketing Agency fought off tough competition from five other companies to take home the prestigious award.
The Best Blog achievement rounds off a successful year for the agency, who have also managed to secure a DADI award for Best In-House Website or Campaign and a Silver Award for Best Rebrand of a Digital Property at this years Transform Awards.
The accolade highlights Koozais brand transformation during the early part of 2012, with a full website redesign and the incorporation of Koozai TV an online channel offering expert video guides on all things SEO, PPC, Social Media, Content Marketing and more.
The UK Search Awards, run by Dont Panic, in association with Manual Link Building and SEMPO, celebrate the very best in SEO, PPC and digital marketing and have been running since 2011.
Following on from the UK Search Awards win and other 2013 accolades, Koozai are hoping to carry on building this momentum and to be recognised for their hard work as they head into 2014.
Ben Norman, CEO & Founder at Koozai, spoke about being crowned winners at this years awards: Were extremely proud to receive the Best Blog award. Its another amazing achievement to round off 2013 and a testament to the hard work carried out by the whole Koozai team."
Our brand has gone from strength to strength in the last year alone, and with the introduction of Koozai TV alongside our blog, we will continue to provide great insights into the digital marketing world for years to come.
Its been an incredible year for us in 2013, so were hoping to keep pushing forward in the right direction as we move into the New Year.
To find out more about the UK Search Awards 2013, please visit http://www.searchawards.co.uk.
ENDS
About Koozai:
Since their inception in 2006 by CEO & Founder Ben Norman, leading UK Digital Marketing Agency, Koozai, provide a full range of professional digital marketing services for a diverse and expanding customer base. Specialising in Search Engine Optimisation (SEO), Pay per Click Management (PPC), Social Media, Analytics, Content Marketing and Brand services, the digital firm provide complete solutions for clients from all industries and businesses of any size.