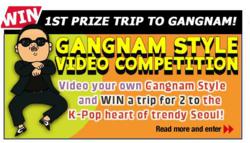 (PRWEB UK) 6 December 2012
The Korea Tourism Organisation are launching an online advertising campaign with Media Agency Group promoting Gangnam, the heart of trendy Seoul, and Korea as a holiday destination.
In a climate of escalating competition in the travel market, Korea Tourism Organisation are thinking outside the remit of traditional tourism marketing making the most of the worldwide interest in K-Pop. Gangnam Style is the tune that everyone is talking about, and love it or loathe it the video has had 881 million hits on Youtube.
The success of Psys Gangnam Style has catapulted K-Pop onto the world stage, and the organisation is using this interest to raise the profile of the destination with a Google Adwords campaign and a Gangnam Style video competition. Entrants are asked to video themselves and friends stamping out the Gangnam Style moves and upload the video to YouTube, the winner and a friend will be flown to Seoul courtesy of the Korea Tourism Organisation and Korean Air for a 3 night stay in Seoul including a tour of Gangnam.
Click Tap Media, the online division of Media Agency Group have been tasked with creating an increase in volume of visitors to the Go Korea website, and entrants to the competition focusing on key searches around Gangnam Style, Psy, Gangnam; running around a traditional campaign focusing on Korean holidays.
Click Tap Medias strategy was focused on building campaign groups specific to both advertising messages, and refining bids and budget to improve conversion rate and maintain the quality of traffic to the website.
The team have ensured core messaging and ad copy was set to each keyword campaign, targeting audiences already interested in holidays to East Asia, and making web users interested in Psys Gangnam Style aware the term is actually a Korean neologism associated with Seouls Gangnam district.