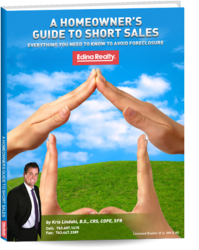 New Germany, MN (PRWEB) January 21, 2013
Edina Realty's experienced agent Kris Lindahl led a short sale seminar in New Germany, MN over the weekend that was very well attended. Lindahl is Edina Realty's premier short sale agent. The seminar started out with Lindahl going through the short selling process step-by-step using his many years of experience. Lindahl also highlighted key differences between major banks on many of the steps.
After the presentation Lindahl showed the audience how to find the resources that he's created online for the public's use. Lindahl has created three short sale calculators, a downloadable eBook, and a video series that all can help a homeowner through the short selling process. An hour long Q&A session also took place in which Lindahl took general and personal questions form the crowd.
Kris and his team of full-time Edina Realty realtors are running a seminar campaign that has seen full attendance at nearly every event. "Our mission is to give homeowners a second chance to get back up on their feet with the information that we present," Lindahl said.
Call Kris and his team at (763) 607-1415 for more information. Visit the Minnesota Short Sale Calculator website to check eligibility. Download a complimentary copy of the eBook titled "A Homeowner's Guide To Short Sales" and check out the video series on YouTube.