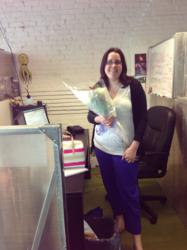 Boston, MA (PRWEB) May 29, 2013
Byron White, the founder and Chief Idea Officer of WriterAccess, a Boston-based online portal that matches clients with expert writers, is pleased to announce the expansion of the companys client services team with the addition of Kristin Schiff as an Account Manager. Schiff, who already has over two years of experience in the merchant services industry, will jump right into her new role as a liaison between the over 4,000 clients looking for content and the WriterAccess team of over 6,000 expert writers.
When new clients first come to WriterAccess they are paired up with an account manager such as Schiff, who helps them through all phases of the content ordering process. Schiff will be introducing clients to the WriterAccess online job board, explaining how to post assignments to attract top writers, and finding answers to any questions the assigned writer may have. Our clients expect the best in content marketing from our writers, said White. Kristin has the energy, background, can-do ability, and enthusiasm to help us continue delivering the best with our innovative approach to optimizing performance.
Since its founding in 2000, the WriterAccess contingent of top writers has produced over 330,000 orders for clients. With a variety of writing projects that include blog content, website copy, white papers, press releases, product descriptions and manuscripts. White says that Schiff will have her work cut out for her. Im excited about meeting the challenge of expanding my knowledge of content marketing, Schiff responded. Everyone has been very supportive. WriterAccess is driven by hardworking staff looking to provide quality content while meeting the high standards of clients. Each and every one of my team members is there to help with finding writers, placing orders and managing content projects. That way our clients can focus on managing their business. Im so happy to be a part of it.
The process of connecting with expert writers has been streamlined by WriterAccess. After making a small initial deposit, clients can easily find writers, place orders, manage workflow and track performance. White is particularly proud of the companys unique award-winning content planning and performance software. This free application allows customers to organize and optimize content and track the performance of everything they publish. In its efforts to continue expanding to meet the ever-growing need for quality writing, WriterAccess says that it is constantly searching for the brightest, most innovative and most creative full-time editors, account managers and content strategists to help meet client needs.
WriterAccess is an online marketplace connecting customers directly with expert writers. It's a Platform-as-a-Service developed by ideaLaunch, a leading provider of content marketing services and solutions. The companys mission is to streamline content creation with great writers and editors that all have the passion, expertise and experience needed to help grow a business organicallythe content marketing way. Further information is available at http://www.WriterAccess.com or 617-227-8800.