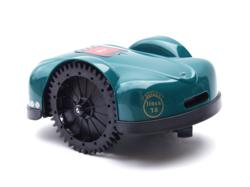 Atlanta, GA (PRWEB) February 14, 2013
Kyodo America Industries Co., LTD, makers of the LawnBott line of robotic mowers, is proud to announce its newest LawnBott dealer. LawnBott of Eastern Ohio is now a fully authorized LawnBott robotic mower dealer serving the greater Youngstown and Warren, Ohio and surrounding areas.
LawnBott of Eastern Ohio will make their home show debut at the Mahoning Valley Home and Garden Show, February 15-17, 2013 at the Eastwood Expo Center, Booth #48, in Niles, OH. See more show information here, http://www.ohiohomeshows.net/mahoningvalley.html.
LawnBott is a line of robotic mowers that can maintain yards from 5,000 sq. ft. to well over an acre. Using lithium-ion batteries, LawnBotts are a non-polluting alternative to typical gas powered mower. Many models are fully automatic and feature self-recharging, so that a homeowner can enjoy a well-trimmed yard, without the hard work typically associated with yard maintenance.
James Plizga, owner of LawnBott of Eastern Ohio, recently visited Kyodo Americas facility in Atlanta, GA for dealer training for the entire LawnBott line of products. After completing the training course, Mr. Plizga commented, I was amazed just watching them cut the grass all by themselves. It really is an easier way to mow the lawn. Having lived in the area for many years, Mr. Plizga and his staff have strived to serve the needs of homeowners throughout the region and now with the addition of the LawnBott, are able to bring robotic mowing to the community. Find out more about LawnBott of Eastern Ohio here, http://www.lawnbott.com/easternohio/.
Kyodo America Industries, Co., LTD, is an Atlanta, GA based manufacturer of lawn & garden products and the LawnBott robotic mowers. LawnBotts were originally developed in Italy and are making their way across the US and Canada. Since 2000, our robotic mowers have been helping homeowners maintain their yards without the sweat and aggravation of conventional mowers. To find out more, please visit our website at http://www.LawnBott.com.