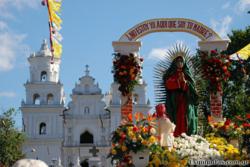 Los Angeles, CA (PRWEB) December 07, 2012
The Los Angeles Flower District California Flower Mall will stay open later weekdays and this weekend to help DIY bargain bloom shoppers and florists prepare for the Fiesta Dia de La Virgin de Guadalupe with farm fresh flowers up to 70% off retail prices. Red roses signify the December 12th miracle celebrated by millions of Los Angeles Latino families.
Budget minded working people, churches and florists need the convenience of later evening and weekend shopping hours to get their fresh flowers in preparation for the Dia de Guadalupe celebration. Flowers are a huge part of expressing devotion to the Virgin of Guadalupe the Queen of Mexico. California Flower Mall is the only flower market in the six block Los Angeles Flower District open from 5 a.m. to 4 p.m. Sunday December 9, and 4 a.m. to 6 p.m. Monday and Tuesday or until the last customer is served, stated Hilda Jimenez, Operations Director at the San Pedro Street California Flower Mall.
Dia de Guadalupe flower decorating begins in line with the sequence of miracles this holiday celebrates. The first is said to have happened on December 9 culminating with the Virgins most profound miracle of the roses on December 12. In Southern California families attend church and fiestas the evening of December 11 because December 12 is a work and school day for most. Jimenez a native of Mexico said. She added, Theres more leisure time for devotion, family and fiestas in Mexico where December 12th is a national holiday.
CFM wholesaler Jose Macias explained that Dia de Guadalupe customers can underestimate the time and skill it takes to decorate the large flower arches los arcos unique to the Fiesta Dia de La Virgin de Guadalupe celebration. We have expert teams of last minute miracle workers here to help decorate the arcos with fresh flowers and prepare flowers for personal, church and neighborhood alters of flowers.
Some families have flower traditions honoring the Virgin of Guadalupe that are carried through generations. Red roses are the most popular because of the Virgins miracles, but many different colors and varieties of flowers are used in custom flower arrangements specific to family tradition substitutions arent allowed, according to Gersain Bustos, owner of Growers Direct at California Flower Mall. After red roses, white roses and Casablanca lilies are big sellers at this flower mart, Bustos said.