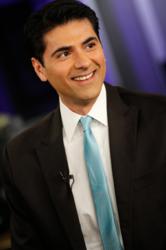 Los Angeles, California (PRWEB) January 15, 2013
A weekly guest on the popular morning news program FoxLA, Sonu Ahluwalia, MD, confers health information about a variety of topics ranging from orthopedic surgery to women's health. This week, Dr. Ahluwalia spoke about the importance of obtaining a flu shot to guard against a particularly bad strand of flu this season.
The flu this season has been particularly bad, and in almost 47 states, it's reached epidemic proportions, said Dr. Ahluwalia, a board-certified orthopedic surgeon at La Peer Health Systems in Beverly Hills. California has been somewhat spared, but we think it might be here soon.
News organizations are already reporting a record number of flu cases this year. In New York state, where Governor Andrew Cuomo has declared a public health emergency, an alarming 19,128 cases of flu have been reported thus far. Last year, only 4,404 flu cases were registered. As of January 12, the flu had taken the lives of two children and ten elderly residents of New York. Because not everyone reports a case of flu, the number of people afflicted with flu this season is thought to be much higher.
According to Dr. Ahluwalia, those individuals who have already suffered from flu this season should still consider having the shot, as they could contract another version of the flu before the season ends. Although elderly flu victims are most likely to require hospitalization, a breakdown of flu cases indicates that individuals between 18 and 49 are at the highest risk for contracting flu. Dr. Ahluwalia advised viewers that getting a flu shot was the best way to protect themselves from the discomfort, inconvenience and missed work associated with the flu.
Dr. Ahluwalia went on to say that this season's flu is both stronger and more widespread than in previous years, and those individuals who haven't yet been vaccinated should still consider getting the shot. Flu season is expected to last for another two to three months.
Watch the entire news segment on My Fox LA.
For more health tips from Dr. Ahluwalia, as well as videos of his FoxLA segments, visit his Facebook page.
Sonu Ahluwalia, MD, is an internationally-acclaimed board-certified orthopedic surgeon at La Peer Health Systems, as well as the Clinical Chief of Orthopaedic Surgery at Cedars Sinai Medical Center in Beverly Hills. His private practice specializes in sports medicine, shoulder, knee and hip surgery.
Dr. Ahluwalia completed his orthopedic training at the Harvard Combined Orthopaedic Surgery Residency Program in Boston, one of the most sought after training programs in orthopaedic surgery. He has completed three fellowships, two at Harvard Medical School and one at Lenox Hill Hospital in New York City, on shoulder surgery, sports medicine, and joint replacement and joint preservation surgery. For more information please call 310.659.2910 or visit http://www.Ahluwalia.org.