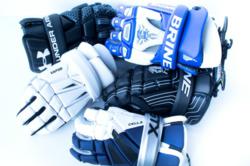 Hollywood, CA (PRWEB) May 02, 2013
LacrosseBro.com is "gaming" the expensive world of sports equipment by applying the power of group-buying to a niche sporting pursuit.
In a tough economy, extra cash for favorite pastimes is a rare commodity. Where the big group-buying sites like Groupon and Living Social provide access to a high volume of mainstream consumer offers, it's tough to find deals on specific things like niche sporting equipment.
But for lacrosse players, getting set up every year can be really expensive. With gloves priced in the $ 200 range and helmets costing another $ 200+, purchasing and re-purchasing all the necessary equipment each year can easily put you thousands of dollars in debt, particularly if one is buying for a whole team. But New York and Chicago-based LacrosseBro.com realized that by connecting the purchasing power of lacrosse players all over the country, they could negotiate steep discounts from equipment companies.
Like many companies that have great solutions to real problems, LacrosseBro needed an efficient way to simply explain their business and why other lacrosse players should consider signing up. That's when they turned to Fire Starter Videos, a Hollywood-based animation studio that specializes in cartoon services that help companies explain what they do quickly using the power of animated videos.
When asked about their decision to add video to their online marketing, LacrosseBro founder, Dave DiCosola, had this to say:
"We are Lacrosse players ourselves and could see there was a real opportunity to service this community through the power of group buying. The challenge was explaining what we do quickly to online buyers searching for Lacrosse equipment. That's why we made the video."
Founded in 2011, LacrosseBro.com's ultimate goal is to "Grow the Game" by making the sport affordable and accessible to more athletes. For any lacrosse players, coaches, or enthusiasts who'd like to participate in these deals, visit LacrosseBro.com to sign up for a free membership.
Fire Starter Videos provides all kinds of cartoon services from whiteboard animation, to cartoon animation and explainer videos. Their clients include MasterCard, UNICEF, Hayes, the World Bank, and more than 200 governments, schools, and other organizations.
They are located at 7083 Hollywood Blvd, CA. To view examples of their work and commission a video, please visit their website at http://www.FireStarterVideos.com or email info(at)firestartervideos(dot)com