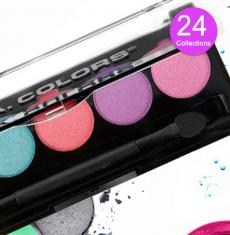 Los Angeles, CA (PRWEB) July 14, 2013
Lady de Cosmetic, the well known online makeup retailer, announced today the addition of a new line of metallic eyeshadow colors, part of a large batch of new products that have just arrived from L.A. Colors. Each 5-color mini-palette sports five professionally coordinated colors that can be applied individually or in any combination. Like all of Lady de Cosmetics beauty products, they are priced to fit within anyones budget.
"Please visit our online makeup store and see these great new eyeshadows for yourself," says Daniel D., General Manager of Lady de Cosmetic. "Our goal is to make high quality makeup products affordable for everyone — even if your budget is tiny. In these times most name brand cosmetics are beyond the reach of many customers."
Indeed, surveys have shown that luxury products, such as cosmetics, are the first things to get cut from the budget of the average family in hard times. These L.A. Colors 5 Color Metallic Eyeshadows, like all the products on the Lady de Cosmetic website, are priced to fight that trend.
Lady de Cosmetic is currently updating its inventory with hundreds of new high quality products from L.A. Colors and other wholesalers.
Internet visibility is a big deal these days — especially if youre an Internet retailer, and Lady de Cosmetic is quickly gaining high visibility from fashion bloggers and on social media like Facebook and Twitter. "Many colors, high quality and excellent prices – this makes Lady de Cosmetic a real contender in the race with name brands," tweets one glamor blogger.
"People often ask me how we can offer these great low prices," says Daniel D. "Believe it or not, its not that hard. Because of our many long-established contacts with wholesalers and manufacturers of quality cosmetics here and abroad, we can purchase huge shipments of these products at lowest possible prices. And we pass that massive buying power on to our customers. We will be adding up to 500 new popular makeup and cosmetics products during the next few months. We want to see all our fans and customers happy, excited and beautiful."
News Provided by the TRIXMEDIA Online Marketing Team