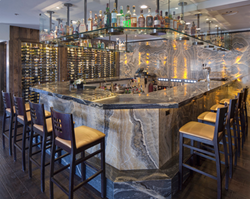 South Lake Tahoe, California (PRWEB) September 12, 2014
Two hand-selected California restaurant wine lists at properties owned by Multiversal Enterprises have received the 2014 Wine Spectator Award of Excellence. Both Jimmys Restaurant at The Landing Resort & Spa in Lake Tahoe and the Rafters at Sierra Nevada Resort & Spa in Mammoth Lakes received the latest annual award, which highlights dining spots around the globe that offer the best wine selections. Multiversal Enterprises, parent company to both award-winning properties, is owned by Jim and Nancy Demetriades, who take pride in beautifully presenting wines that have been carefully curated for superior harmony with their restaurants menus.
"We are extremely proud to be recognized, says Jim Demetriades, owner of California-based Multiversal Enterprises. We have worked hard to build one of the best wine lists in the Sierras, and we are thrilled that more people than ever are flocking to Jimmys and the Rafters to enjoy our fine wines and unique and amazing food.
We go out of our way to provide wines that are not standards on many wine lists, explains Warren Chip Ermish, wine director for both of the honored Multiversal restaurants. We seek out those gems that are hard to find or might be new to our guests wine experience wines from New Zealand to Paso Robles to the State of Washington.
The Landing Resort & Spa, Lake Tahoes first five-star boutique lakeside resort, offers a wine list of more than 2,000 bottles to accompany the menu at its in-house Jimmys restaurant, overseen by British celebrity chef Maria Elia and combining a fresh approach to Greek cuisine with wood-fired California offerings. Jimmys unique glass-enclosed wine cellar features hand-selected bottles from more than 250 labels from around the world, including a rich offering of Greek wines, several grower champagnes, and sought-after selections from both the new and old world.
Located in the heart of Mammoth Lakes, the rustic-luxe Sierra Nevada Resort & Spa is the only area hotel with a full service on-site spa, and also provides three on-site restaurants, including the Rafters. Rafters offers 262 wines specially selected to complement its modern American cuisine, which uses fresh seasonal and local ingredients to provide guests with the best possible pairing and dining experience.
A total of 2,791 restaurants earned the 2014 Wine Spectator Award of Excellence, which recognizes a wine list offering an interesting and diverse selection of wines that match the restaurant's cuisine in price and style. The winners were featured in Wine Spectator and at winespectator.com. Wine Spectator started the Award of Excellence program to recognize the world's best wine lists in 1981. This years award winners span all 50 U.S. states and more than 80 other countries and territories.
About Jimmys Restaurant and the Rafters:
Jimmys Restaurant is on-site at The Landing Resort & Spa, Lake Tahoes first five-star boutique lakeside resort. With a menu created by nationally acclaimed chef Maria Elia, Jimmys includes a backlit onyx-walled bar, lakeside dining with several private dining alcoves featuring fireplaces and four fire pits on an outdoor lake-view patio. Jimmys debuted in December 2013 and is open daily serving breakfast, lunch and dinner. Rafters Restaurant and Lounge is one of three restaurants on the grounds of the Sierra Nevada Resort & Spa, a luxuriously remodeled 149-room hotel with a full service on-site spa and lodging choices that range from fireplace suites to three-bedroom chalets. Rafters offers an inventive New American menu and is open daily for breakfast and dinner. For additional information and reservations visit http://www.thelandingtahoe.com and http://www.thesierranevadaresort.com.
Contact:

Darla Worden, WordenGroup Public Relations, darla(at)wordenpr(dot)com, 307.734.5335