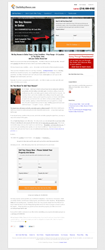 Ames, IA (PRWEB) May 03, 2014
Lakedale Properties is one of the leading real estate investors in Texas, concentrating mainly in Dallas and surrounding areas. They offer expert services to individuals who may need help in saving their home, during a foreclosure. They also purchase distressed properties when they see potential. They sought out Octadyne Systems for help in improving their ranking on Google, and optimizing their site for all major search engines.
We selected Octadyne Systems, mainly because of their reputation in the industry for offering outstanding SEO and Social Media Marketing services to real estate dealers and investors. They enjoy a proven track record of assisting clients, in different niche markets, in improving their online ranking and presence with Google, Yahoo, and Bing, said Carlos Zepeda, owner of Lakedale Properties. For our SEO project, Octadyne Systems was the most obvious choice for us.
Octadyne Systems President, Syed Azam remarked, Lakedale Properties is a valued client and we will exceed their expectations. Many firms fail to reap the rewards of online marketing as they fail to pay necessary attention to their SEO and SEM efforts. Improving rankings in Search Engine Result Pages (SERPs), like on Google, is an ongoing effort, and with different releases by Google, attaining and maintaining higher rankings is becoming more and more challenging for businesses. Maintaining first page ranking is an even bigger challenge. Otherwise, companies can lose months, if not years, of hard work to their competition. When it comes to deploying successful SEO campaigns, Octadyne Systems has the experience and knows what it takes to get our clients the desired SEO results.
About Octadyne Systems:

Octadyne Systems provides Web-Based Application Development, ColdFusion Application Development, IT Consulting, Search Engine Optimization, Facebook Apps, Social Media Marketing, and PPC Management Services to clients all over North America. Octadyne Systems most notable online solutions include AutoJini.com, Non-ProfitSites.biz, and RetirementCommunitySolutions.com. Octadyne Systems has offices in Ames, Iowa, U.S., and Kitchener, Ontario, Canada.
For more information, please contact Mr. Syed Azam by phone (515) 232.2024 or email syed(at)octadyne(dot)com.
About Lakedale Properties:

Lakedale Properties specializes in purchasing single family, multi-tenant, and other investment properties in Dallas, Fort Worth and surrounding communities. They work with individuals, families, and investors to help them get out of distressed properties and, in most cases, offer cash for those properties. For more information, please visit their website at http://www.charlie-buyshouses.com. Lakedale Properties can also be reached via phone at (214) 699-8182, or email at charlie(at)charlie-buyshouses(dot)com.