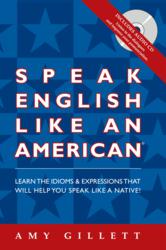 Ann Arbor, MI (PRWEB) December 19, 2012
Language Success Press, a publisher of accent reduction, business English and everyday English materials has just released a new lesson on American English idioms and expressions. The lesson Speak English on Christmas Day is based on the bestselling Speak English Like an American book series. Its available as an eBook on the companys ESL blog.
The mini ESL eBook invites readers to join the Johnson family for their Christmas celebration. Readers of Speak English Like an American will remember the Johnson family and their colorful adventures.
In the new eBook, the adventures of the Johnson family continue, with lively conversation by the Christmas tree. Along the way, readers learn more than a dozen useful new American English idioms and expressions. They'll also become familiar with the American tradition of the "ugly Christmas sweater." The material was written by Amy Gillett, author of the five books in the popular Speak English Like an American series.
The holiday season is a great opportunity for English language learners to practice their English with native English speaking friends and family, says Ms. Gillett. This lesson will give them some new vocabulary to try out, such as "get in the holiday spirit" and "beat the holiday blues." I hope ESL students and English language learners around the world will enjoy this small gift, says Ms. Gillett.
Speak English Like an American the first book in the series has a readership in 50 countries around the world and is in use at dozens of college ESL programs around the United States. The book is also available in Kindle edition and as an iPad and iPhone app. In January, the book will launch its fifth edition.
Each of the books in the Speak English Like an American series teaches over 300 American English idioms and expressions in context, along with definitions and usage examples. While idioms can be tricky for non-native English speakers, Ms. Gillett explains that they are a key part of gaining fluency in English. Idioms add color to the language. They make it come alive. They make English as a Second Language speakers speech sound more natural and less foreign.
The Christmas English Lesson can be found on the Language Success Press blog. The lesson is available in PDF format for download. Last month, the blog featured an eBook with idioms related to the Thanksgiving holiday which has been enjoyed by thousands of ESL learners and teachers around the globe.
About Language Success Press
Language Success Press is a publisher of books, CDs, and apps to help people speak better conversational American English. The company specialties include books and CDs for accent reduction, business English and everyday English. Popular titles include: Lose Your Accent in 28 Days, Speak English Like an American, and Speak Business English Like an American. The company offers five ESL apps, including the recently released Say it Better in English iPad app. To order books and CDs from Language Success Press and to find out more about its growing line of ESL apps, please visit the company's website. For more information, contact Tanya Peterson at Language Success Press: Tanya@languagesuccesspress(dot)com