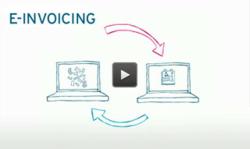 London, UK (PRWEB UK) 17 September 2012
Recent research from Dun and Bradstreet (D&B), gives some insight into the extent of the supplier payments situation in the UK. It shows that our small and medium businesses (SMBs) are facing a difficult landscape.
We work in an eCommerce ecosystem, where every company depends upon the next and any delays, mistakes or inefficiencies in these relationships have significant knock-on effects. This presents a number of challenges and our aim is to stabilise this ecosystem by eliminating delays and improving cashflow.
The D&B research shows us that while prompt payments have been increasing since a six-month low in April, small businesses, rather than large enterprises, are bearing the lions share of the burden.
While SMBs are typically paying on time to protect their relationships with other suppliers, they are also those least equipped to deal with delays in receiving payment, which puts them in danger.
If youre an SMB, youll know that cashflow is king when you have smaller cash reserves. Delays in incoming payments result in reliance on more expensive financial tools e.g. overdrafts to ensure that you can pay your own bills.
Its not like SMBs have the purchasing power to fight back either so whats the answer? Well, e-invoicing could change this situation entirely.
Savings in processing time alone would bring many more payments within payment terms. This isnt happening more widely because so many companies think that the move is costly or too big of a task.
In reality, e-invoicing is cheaper than using paper and to implement the change is often easier than many people think. Virtual printing can be implemented with little fundamental change to the IT infrastructure; while companies can also outsource functions including scan and capture to get themselves onto the e-invoicing ladder.
This may not change larger companies preference to keep hold of their cash, but it definitely breaks down some of the barriers.
About Basware

Basware is the global leader in cloud based e-invoicing and purchase-to-pay solutions with more than 1,000,000 users in over 60 countries. Baswares B2B Cloud solutions and services provide an open, secure and global ecosystem for buyer and supplier collaboration, connecting more than 1.9 million buyers and suppliers globally. The solutions are architected to meet the needs of SMEs and global enterprises and are built upon Baswares deep knowledge and experience of B2B financial processes, coupled with intelligent cloud connectivity and the Open Network. With Basware, organizations benefit from more efficient procurement, accounts payable and accounts receivable processes, sustainable cost savings, better insight to cash flows and improved buyer-supplier relationships. The solutions are available via the cloud, on-premise or through business process outsourcing in Europe, the US, and Asia-Pacific through an extensive network of Basware offices and business partners.

http://www.basware.com