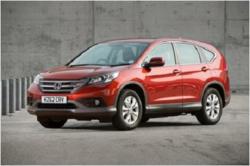 (PRWEB UK) 27 November 2012
RESIDUAL values expert CAP Monitor is predicting good resale values for the recently-introduced fourth-generation Honda CR-V.
One example – the range-topping EX model with manual transmission is expected to keep forty percent of its original P11D value after three years and 60,000 miles. That's above the average for the SUV market.
Jeff Knight, Editor of CAP Monitor, said: "It's an all new vehicle with a good standard specification, more modern styling, improved dynamics and excellent real-world fuel economy. There's also a noticeable reduction in cabin noise, increased usable interior space and a more ordered structure to the range."
Lee Wheeler, Manager-Corporate Operations at Honda (UK), commented; "We are delighted that the new CR-V has achieved such impressive residual values. It's critical to have strong residual values in this highly competitive fleet market segment. Leasing company confidence in re-sale values for new CR-V is a major benefit as they decide on its market competitiveness. This same confidence in re-sale values also spells good news for retail buyers who are purchasing the car on Personal Contract Purchases (PCP)."
Business car users will already be looking at Honda models in a more favourable light because of the arrival of the company's new 1.6-litre diesel engine which turns up shortly in the CR-V and the Civic.
Business Car Manager has a variety of useful guides including business car lease, business car profiles and detailed reviews including SEAT reviews among others.
For more information visit: http://www.businesscarmanager.co.uk or contact their editors at: 5581943.