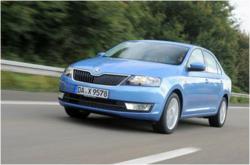 (PRWEB UK) 22 November 2012
Skoda Rapid 1.6 TDI CR SE 105PS DPF
What is it?
THE seventh model in Volkswagen Groups fast-expanding Skoda value for money range and the first to express chief designer Jozef Kabans clean new styling design language, evolved from the Vision D and Mission L concept cars.
An all-new Skoda Octavia, also incorporating the new design cues, will arrive next year. It will be larger and more up-market than its predecessor, thus making more room for the Rapid to establish what for Skoda is effectively a new market niche.
The Skoda Rapid itself does not quite fit sector conventions, being longer (4.48m) and bigger overall than perceived principal budget rivals such as Kias Ceed, Hyundais i30 and General Motors hatchback Chevrolet Cruze, or even more ambitious targets such as Vauxhalls and Fords cheaper Astra and Focus versions.
There is a choice of five engines; four petrol and one diesel.
The entry-level, three-cylinder, 1.2 litre older generation petrol unit puts out 75bhp, an unimpressive 139 g/km of CO2 and offers 47.9mpg fuel consumption.
The turbocharged, four cylinder 1.2 and 1.4 turbocharged TSI engines are altogether more attractive. The 85bhp variant of the 1.2 litre offers CO2 of 119g/km and 55.4mpg; the lustier 104bhp version 125g/km CO2 and 52.3mpg. The 121bhp, 1.4 litre petrol model (134 g/km, 48.7mpg) is the only version to offer a seven-speed twin-clutch automatic gearbox; all other models including the fuel-sipping 104bhp,1.6 litre TDi diesel (114g/km, 64.2mpg) are offered with five or six-speed manual gearboxes.
Lower emission GreenTech versions will follow next year, dropping the diesels CO2 to 106 g/km and improving fuel consumption to 70.6mpg. Benefit in kind company car tax ratings range between 14 and 20%.
Residual value specialist, CAP, is forecasting 31-33 per cent residuals after three years, depending on model.
The business use case the Skoda Rapid thus makes for itself is strong, if not quite overwhelming. Skoda executives, while acknowledging that retail buyers will dominate initially, make no secret of their belief that it can push Skodas total company car and other business user share of sales towards the 40 per cent mark. The model were reviewing here is the 1.6 diesel Skoda Rapid the car thats likely to appeal most to company car drivers.
What's hot?
Crisp, smart external design- the new face of Skoda

At 4.48m, biggest in the class

Generous interior space; boot is class-leading

Interior/dashboard design new plateau for Skoda

Simply Clever convenience features

Elegant saloon looks but large hatchback accessibility

Each trim level S, SE, Elegance – well specified for (low) price

Frugal, low-CO2 Greentech models to follow next year
What's not?
Fuel economy, emissions good but set no new benchmarks

Thus BIK not among best

Diesel not as refined as some rivals

Diesel driving experience uninvolving; petrol version better
Business Car Manager road test verdict
It was mere coincidence to end up driving examples of the premium small hatchback face of the mighty Volkswagen group, Audis A3, on one day; the latest of its budget brand equivalent, the all-new Skoda Rapid, just 24 hours later. It was also instructive, if presenting few surprises, as an example of a business user getting what he or she is prepared to pay for.
In comparison with the small Audi, the new Rapid especially in the 1.6 litre diesel version which forms the main subject of BCMs test – does indeed feel very much built down to a price.
Engine and transmission noise, although far from intrusive, are more noticeable. The interplay between road and suspension is more keenly felt through the body structure.
Ride, steering and handling are supple but, particularly in the case of the diesel, hardly sporting.
But for the truly cost-conscious company car user, the new Skoda Rapid in other important respects leaves its posher cousin for dead.
The entry level Rapid S, with 1.2 litre 75bhp engine, costs