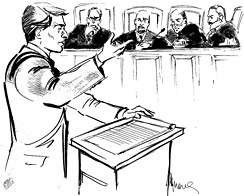 New York, New York (PRWEB) May 30, 2013
Federal appeals lawyer Stephen N. Preziosi is focusing Pepper v. United States 131 S. Ct. 1229 in his latest look at key cases that have shaped and influenced current United States Sentencing Guidelines (U.S.S.G.). In the case, the Supreme Court affirmed that District Court may, at resentencing, take into consideration evidence of a defendants rehabilitation for the purposes of granting a sentence that is a downward departure from the Guidelines range.
In 2003, the defendant and petitioner Pepper pled guilty to conspiracy to distribute more than 500 grams of methamphetamine. The Government, in light of what it deemed as Peppers significant help in the case, called for a 15% downward departure from the applicable United States Sentencing Guidelines range. The District Court, however, sentenced Pepper to a 75% downward departure — an amount that provoked the Government to file an appeal.
At Peppers resentencing hearing in 2006, he was in the process of serving his term of supervised release. He had also undergone successful drug rehabilitation, enrolled in college, and was working part-time. In light of these positive factors, the District Court resentenced Pepper to a 40% downward departure from the bottom of the Guidelines range, plus an additional 59% downward departure given his post-conviction rehabilitation. As a result, his sentence was reduced to 24 months, with the trial judge stating that there was no practical purpose in sending Pepper back to prison.