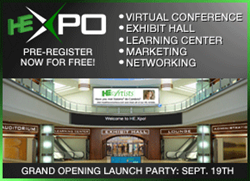 Ponte Vedra, Florida (PRWEB) September 12, 2013
HealthEconomics.Com, the global leader on healthcare value and market access, is preparing to unveil their newest breakthrough service: HE-Xpo, the first virtual conference and tradeshow specifically targeted to professionals in health outcomes, healthcare market access, pharmaceutical pricing, reimbursement, and health information technology. The Grand Opening of the Virtual Conference and Tradeshow is scheduled for September 19th, from 8:00 am to 12:00 pm ET. Free registration for attendees will remain open up to and beyond the September launch date.
During the Grand Opening Conference which is directed toward professionals in the field of pharmaceutical pricing, reimbursement, health economics and outcomes research (HEOR), and healthcare informatics, attendees will be able to experience first-hand the features and benefits of HE-Xpo from their PC/Mac, smartphone, or tablet. Exhibitor booths from companies like Archimedes, eyeforpharma, ERT, Evidera, McKesson Specialty Health, Xcenda, and others will offer rich content for view or download: video, presentations, white papers, product demonstrations, and more.
On-demand webinars will be available for viewing during the Conference on September 19 and continuously thereafter. Evidera will present ClinPRO Development Approaches with a focus on patient reported outcomes development in clinical drug development. Personalized Medicine Clinical Decisions & Payer Perspectives will be presented by Xcenda staff in a webinar, and HealthEconomics.Coms Dr. Patti Peeples will present Dont Forget the Payer in Your Digital Strategy: What Payers Need and Want from Pharma.
Were extremely excited to preview the HE-Xpo Virtual Conference platform to the healthcare value and market access audience, and particularly about our Grand Opening on September 19th, said Dr. Patti Peeples, President and Founder of HealthEconomics.Com. "Registration for the Grand Opening Launch Party has exceeded our expectations, approaching 100 registrants, representing major companies such as Aetna, Pfizer, gsk, Abbott, Novartis, Sanofi, and many others."
"Virtual Conference platforms such as HE-Xpo are representative of a fast-growing new trend in the conference and tradeshow industry," Leslie Fine, HE-Xpo Marketing Manager explained. With the virtual HE-Xpo conference platform, the days of traveling thousands of miles, and spending a lot of money attending a real-world tradeshow are a thing of the past. During our HE-Xpo Grand Opening, attendees can interact with their colleagues and industry leaders through cutting-edge technology such as video streaming, live and archived educational offerings, live chat, and virtual exhibit booths with rich-media content for view or download. Our goal was to take the traditional tradeshow experience, enhance it, and make it available to our global audience, from their home or office, and on their schedule. With HE-Xpo, weve succeeded and we believe the HEOR and pharmaceutical industry participants will agree.
ABOUT HE-XPO

HE-Xpo represents a breakthrough virtual conference and tradeshow platform from HealthEconomics.Com, the first of its kind targeted specifically for the HEOR and Managed Markets audience. Enjoy all the benefits of attending a real-world conference, but without the associated hassles of plane tickets, hotel reservations, and time spent away from the office. View product demonstrations, find educational/job opportunities, participate in webinars, and download informative materials, all from the comfort of your home or office using your PC/Mac, smartphone, or tablet. Read more about HE-Xpo.
ABOUT HEALTHECONOMICS.COM

A pioneer in the field, HealthEconomics.Com (http://www.healtheconomics.com) is the global authority in healthcare value and pharma market access. Each day, HealthEconomics.Com compiles the latest news, policy updates, resources, conferences, and jobs for BioPharmas professionals involved in health economics, outcomes research, market access, and pricing. A trusted resource, HealthEconomics.Coms comprehensive content is carefully selected by a discerning health economist editor, making it the most visited website for healthcare value and market access in the industry, with visitors encompassing all corners of the globe.
News Media interested in receiving the most current information on healthcare value and market access may obtain a free subscription to HealthEconomics.Com by visiting the site or by subscribing to the HealthEconomics.Com Newsletter.