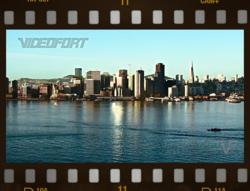 Hollywood, CA (PRWEB) July 09, 2013
Professionals use video content marketing to convey information quickly and more effectively than print and audio. With the launch of VideoFort HD stock footage, marketers and small business owners benefit from professional content marketing with ease and reduced expense.
Unlimited downloads at http://www.VideoFort.com empower emerging video creators with a new level of highest-quality HD and Ultra HD video clips. Subscriptions start as low as $ 19 per month, and include free editing and visual effects tutorials.
"There are seven powerful and beneficial ways that people use video," according to Steve Gatena, VideoForts Founder and President. "Videos help your company make money or help your company save money.
Making money with video: VideoFort makes professional content marketing strategies available to the mainstream. Nike Sparq, for example, teaches viewers how to work out effectively. Similarly, with stock video from VideoFort, personal trainers can teach their clientele how to eat healthy to maximize their workout regimen. A simple nutrition video, for example, can convey how eating tomatoes and avocado together will maximize intake of lycopene.
Delivering Value: By using video to add more value to the client experience, small business owners can begin marketing in a way that retains clients and generates more money for their business. Video helps businesses deliver value to their customers.
Training with video: Large businesses such as Toyota & GE Healthcare use video to teach employees how to execute tasks more efficiently. Training videos help cut costs and keep successful execution at an all time high, explains Gatena. When small businesses or local government agencies like the fire department use disaster video clips to create engaging training videos it allows our emergency response professionals to execute their jobs more proficiently. Without proper teaching methods, first responders have a much higher risk going into forest fires, floods, and hurricanes. By creating a low cost, high quality training videos with VideoFort's HD video clips of real life disaster scenes, Americas Heroes learn and train with one of the best communication mediums on the planet video."
Attracting an audience: Stock footage is frequently used on TV SitComs and cable television dramas. All the opening scenes start with an establishing shot, said Gatena, showing the city, town, or block where the scene takes place. A restaurant or local organization can do the same, using VideoFort HD stock footage. If you are a small Los Angeles bakery, open your small business video with some nice shots of your city. Hot New York city restaurants can now promote their eating establishment with high quality stock footage of their local neighborhood.
Saving Money and Reducing Risk: Video can help reduce risk for companies large and small. Weve all seen these types of videos at Disneyland: Please keep your arms and legs inside the ride at all times, Gatena pointed out. Videos that are structured towards risk reduction and task proficiency are effective for companies that operate high risk locations such as factories, oil rigs, or mines.
Public Service Reminders: Whether a nationwide message, such as Remember to wear your seat belt or Dont text behind the wheel, or a local message such as Save Water. Heres how to plant a water-saving garden, video content is easier to accomplish with HD stock footage.
Promoting a Cause: With VideoFort HD stock footage, the local church has the same marketing tools as the Red Cross. Philanthropic efforts can now be better conveyed by using our HD video clips, said Gatena, When you combine voiceover narration with amazing HD video clips your Sunday services can have a much stronger impact. These are some of the benefits VideoForts growing list of local non-profits and congregations are receiving and its likely the reason we are growing so fast.
Recent research shows that time spent on a website is nearly 6 times greater when content is in video form. Businesses of all sizes can now appreciate the benefits of content marketing with video.
About VideoFort:
VideoFort launched on May 21st, 2013. Subscriptions start as low as $ 19 per month, and include free editing, visual effects tutorials and a creative forum where video producers can collaborate and interact.
VideoFort is the first all HD subscription-based stock footage provider to offer its members unlimited access to some of the worlds most exclusive content. With hundreds of hours of aerial footage and an extensive library approaching 100,000 HD video clips, VideoFort helps filmmakers, advertisers, and start-up businesses produce Hollywood quality video content instantly and at an affordable cost. VideoFort offers the best footage for TVs, movies, commercials, YouTube videos, corporate media, sizzle reels, interactive video, and mobile communications. VideoFort encourages its members to "Explore. Create. Inspire."
To join VideoFort: http://videofort.com/price.php

To contact the company, e-mail info(at)videofort(dot)com

For more information, please visit http://www.VideoFort.com.