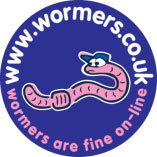 (PRWEB UK) 28 April 2013
Wormers.co.uk are delighted to announce the arrival of their exclusive You Tube Channel to help improve their range of products. The videos available on this channel are designed to help increase knowledge of their vast range of worming products, as well as in the near future, instructing customers on how to use the products safely.
The launch of this You Tube Channel is a landmark for Wormers.co.uk as it allows them to help improve customer knowledge of their products and enhance their overall experience. It is an exciting time as the firm constantly strive to develop products and improve customers satisfaction. The videos can be viewed at http://www.youtube.com/user/WormersUK and updates will be on-going over the course of the year.
In addition to the arrival of the You Tube Channel, Wormers.co.uk are also pleased to share the news that they have recently been ranked in the top 5 in category from the Trustpilot Review System. The Trustpilot Review System is an open platform which allows customers to share real reviews of businesses and products, so this is a real achievement for Wormers.co.uk.
Wormers.co.uk constantly make an effort to improve their customer base and ensure all customers leave feeling happy with the service provided, so this is an achievement they are particularly proud to announce. It is hoped that this rating, in addition to the new You Tube channel, will help customers to relate and feel increasingly comfortable using the products.
As a company who are always challenging themselves to make improvements, it is hoped that many other positive changes will progress from this and there will be scope to constantly meet with the ever changing demands of the market and develop the range of products on offer at the moment. The launch of the You Tube channel is just one of many ways that Wormers will advance in making use of social media in the future to promote products and advertise to current and new customers.
About Wormers.co.uk
Wormers.co.uk first launched back in the year 2000 and quickly became a reputable company who offer a wide range of online worming products, including livestock, equine and pet. The vast range of products available by Wormers.co.uk are designed to ensure the health of pets and animals and advice is also offered for any pet owners who require it. Wormers have a high rate of satisfaction amongst their loyal customer base and constantly strive to exceed their expectations. Their product knowledge is amongst the best in the business and they make it a priority to keep on top of the market.