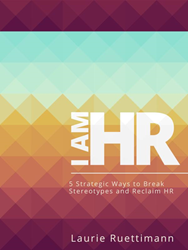 Raleigh, North Carolina (PRWEB) June 23, 2014
This week, speaker, writer, social media strategist and former human resources professional Laurie Ruettimann released a new ebook, I Am HR: 5 Strategic Ways to Break Stereotypes and Reclaim HR.
Ruettimann describes her human resources career, which started with an internship at a candy factory and ended many years later as a regional HR leader at a global pharmaceutical company. After a few very stressful years, she left the business, but she couldnt stop thinking about human resources. No matter how many stereotypes she tried to break, and even though her colleagues were smart people with big hearts, everyone hated HR.
The ebook asks the questions: Why does everyone hate HR? Why does HR get stuck with the negative stereotypes of being old, dowdy, slow, bloated, bureaucratic and run by middle-aged women who love cats? And how can we fix that?
In direct, frank, unconventional language, Ruettimann breaks down stereotypes about human resources and advises HR professionals on how they can reclaim their work and their reputations.
HR professionals are educated, passionate, thoughtful leaders who are both emotionally intelligent and intellectually curious. Its not just sensible women in capri pants. There are a few guys, too, she jokes.
I Am HR is designed and distributed by Rep Cap Press, the publishing arm of content marketing agency Reputation Capital Media.
Laurie is one of the most important voices in HR today. Her passion for the profession — and the people who do it everyday — comes through in every speech and blog post. And it comes through loud and clear in this new ebook, said Mary Ellen Slayter, managing director of Reputation Capital Media.
ABOUT LAURIE RUETTIMANN

Laurie Ruettimann is the creator of The Cynical Girl and Punk Rock HR, which Forbes named as one of its top 100 websites for women. She is also a contributing editor for The Conference Board Review, a contributor to Business Insider, and her advice has been featured in a variety of publications such as The New York Times, U.S. News & World Report, USA Today and AOL.
CareerBuilder and CNN have recognized Laurie as one of the top five career advisors in the U.S. Learn more about Laurie at laurieruettimann.com.
ABOUT REP CAP PRESS

Rep Cap Press is the publishing arm of Reputation Capital Media, a B2B content marketing agency based in Baton Rouge, Louisiana. Reputation Capital Medias team of editors, writers, designers and marketing experts helps B2B companies and their marketing agencies produce high-quality digital content. I Am HR is the first ebook published by Rep Cap Press.