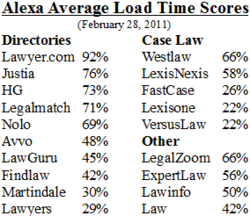 Basking Ridge, New Jersey (Vocus/PRWEB) March 03, 2011
Lawyer.com (http://www.Lawyer.com), a leading online directory for U.S. lawyers is the fastest major legal website, according to data published by Alexa.com, Amazon's web information subsidiary. Alexa collects page loading times from millions of end users and publishes Average Load Time for over 100,000 major websites. Lawyer.com's Load Time score of 92% is better than any other major legal site and is substantially faster than the 10 largest U.S. sites. Only Wikipedia (68%) and Craigslist (91%) managed better than average Alexa Load Time scores.
"Speed is Good" claims Gerald Gorman, CEO of Lawyer.com. "At Lawyer.com, pages load almost instantly so prospective clients can quickly review Lawyer listings to find the best Lawyer for their needs. Clients save time and Lawyers benefit from more targeted leads. Building fast loading pages is difficult. We have over 400,000 lawyer listings in 138 practice categories. We offer powerful search filters including distance, name, location and percent complete. Our Member area offers Lawyers a large array of customization options. From day 1, we have focused on Page Speed and it is great to see Alexa recognize our success."
Lawyer.com is designed from the ground up for speed. Best practices include: caching at the browser, edge servers (Akamai), and at the Lawyer.com data center, high speed DNS servers (UltraDNS), low graphics pages, http compression, optimized databases, object minification, standards rendering and careful testing.
In addition to facilitating good matches between clients and Lawyers, Page Speed is key to search engine optimization. According to Google Webmaster Tools, its search engine crawler – googlebot – retrieves pages from Lawyer.com's server in an average of just 0.3 seconds. As a result, googlebot retrieves up to 300,000 pages a day for better indexing of Lawyer.com content. Profile changes made by Lawyer Members are rapidly updated in Google's index. New uploaded lawyer articles, additional profile information and links to Lawyers' other sites are quickly viewed for indexing. Google's index currently includes over 800,000 pages at Lawyer.com.
Alexa Average Load Time Scores (February 28, 2011)

Directories:

Lawyer.com-92%, Justia-76%, HG-73%, Legalmatch-71%, Nolo-69%, Avvo-48%, LawGuru-45%, Findlaw-42%, Martindale-30%, Lawyers-29%

Case Law:

Westlaw- 66%, LexisNexis-58%, FastCase-26%, Lexisone-22%, VersusLaw-22%

Other:

LegalZoom-66%, ExpertLaw-56%, Lawinfo-50%, Law-42%
About Lawyer.com:

Lawyer.com is the go-to-directory for consumers looking for a U.S. Lawyer. Over 400,000 lawyer listings are provided in 138 legal practice areas. Most consumers of legal services are seeking a lawyer for the first time and don't have legal experience. Lawyer.com focuses on providing an easy to use, fast directory that gets prospective clients up the learning curve so they can target and research the lawyers that best fit their needs. Premium Lawyer Members are provided an expansive mini-site profile to showcase their credentials, experience and accomplishments. Other Member benefits include top listings positions on Lawyer.com search pages, free display advertising options, free toll-free phone numbers, verified credentials Badges, specialist support and a money back guarantee.
# # #