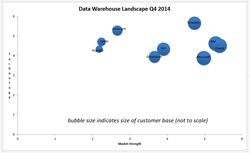 Austin, Texas (PRWEB) March 03, 2015
Magnitude Software, a leading provider of Enterprise Information Management (EIM) software, today announced that Kalido has been ranked one of the top data warehouse vendors from a technology perspective in the Data Warehouse Landscape Q4 2014 report compiled by leading analyst firm The Information Difference.
According to the report, Kalido scored higher on technology than most major data warehouse vendors including IBM, Oracle, SAS, Greenplum and Microsoft. The technology ranking is made up of a weighted set of scores derived from: customer satisfaction as measured by a survey of reference customers, analyst impression of the technology, maturity of the technology in terms of its time in the market and the breadth of the technology in terms of its coverage against The Information Difference functionality model.
Given the combination of inexorably increasing data volumes, new competitors and customer frustrations, the coming year promises to be an interesting one for the data warehouse market, said Andy Hayler, CEO of The Information Difference. In this research cycle, Kalido scored among the top three vendors with the happiest customers.
This is the latest validation of the business-model-driven automation that the Kalido Information Engine brings to the data warehouse market, said Darren Peirce, VP of Products and CTO, Magnitude Software. We thank our loyal customers for sharing their experiences delivering business value from our technology as input into this research.
The full report is available for download from the Kalido website at: http://www.kalido.com/Collateral/Documents/English-US/DW-Landscape-Q42014.pdf
Tweet This: #Kalido ranked top player in Data Warehouse Market Landscape by The Information Difference #DW #DataWarehouse http://magnitudesoftware.com/?p=8855
About Magnitude Software

Magnitude Software is a leading provider of Enterprise Information Management software driving real business results for more than 600 active enterprise customers with over 200,000 users in 100 countries. Magnitude Software offers a family of award-winning applications, from business intelligence and data warehousing to master data management, reporting and analytics. At the core of Magnitudes business is a passionate focus on customer success and a vision to accelerate and automate the end-to-end process of integrating, managing and analyzing information to support business decision making, while reducing operational cost and risk. For more information, please visit http://www.magnitudesoftware.com.