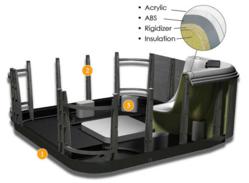 Salt Lake City, Utah (PRWEB) December 07, 2012
Bullfrog Spas today announced a new program to help families of retired and active military personnel to be able to afford a new hot tub through a rebate based discount program.
Bullfrogs Military Discount Rebate Program is now available to qualifying active and retired military personnel and their families in the USA and Canada. The goal of the program is to help military families to obtain a quality hot tub at a reasonable price.
Bullfrog Spas believes the therapy made possible in their hot tubs can play an important role in supporting these families and individuals in a healthy transition to civilian life.
Recent studies by the National Aquatics and Sports Medicine Institute at Washington State University suggest that time in a hot tub can help alleviate many ailments and stresses. One important area being studied is the beneficial effect of warm water therapy on soldiers experiencing Post Traumatic Stress Disorder (PTSD). Indicators suggest that hot tub therapy can have a positive effect by reducing stress and promoting autonomic nervous system balance. More studies are underway.
Bullfrog CEO, Jerry Pasley, shed some light on the motivation for their newly announced program: Bullfrog Spas are proudly made in the USA and we wanted to find a way to support military families, who are our friends and neighbors. We have a product that we believe can be a great benefit to those returning from service and bring families together as well.
Bullfrogs mail in rebate program provides $ 500 off on new Series I or Series II Bullfrog Spas and may be redeemed at any participating Authorized Bullfrog Spa Dealer. A short eligibility check is required.
More information on the Bullfrog Spas Military Discount Rebate can be found here: http://www.bullfrogspas.com/military
About Bullfrog International
Bullfrog International produces the worlds only hot tubs with the JetPak Therapy System. This technology allows the user to customize, interchange, and upgrade their jetted massages at anytime. JetPaks are backed by six U.S. patents with other U.S. and foreign patents pending. Because of the efficiency advantages of the JetPak Therapy System, Bullfrog Spas are more powerful, virtually leak-proof, and extremely energy efficient. Bullfrog International distributes, licenses, and retails its products in the United States, Canada, Australia, Asia and Europe. Bullfrog International, LC, is headquartered in the Salt Lake City, Utah, USA metro area.
Bullfrog executives, including CEO, Jerry Pasley, are available for interview.
To learn more about Bullfrogs patented JetPak Therapy System and to design a custom hot tub online, please visit bullfrogspas.com.