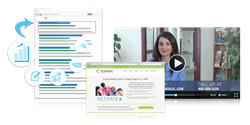 Jacksonville, FL. (PRWEB) July 30, 2014
Multiverse Media Group, a leading Internet marketing company based in Jacksonville, Florida that prides itself on the creation of premium online visibility services, announced the addition of client-specific services to move beyond its complete solutions offerings. According to Multiverse marketing agency representatives, these additional services were added to the companys existing roster of complete online visibility solutions to meet client need in specific areas where some clients require targeted assistance, such as content creation, social media management, pay-per-click advertising and more.
At Multiverse Media Group, we believe that social media — and social media management in particular — should be an integral part of any business owners overall online visibility and marketing plan, states Micha McLain, Multiverse co-founder, editor and tech guru. We have long embraced the social media revolution with open arms, and are now offering, amongst other services, a full array of specific social media marketing solutions optimized to strengthen clients business operations.
In the area of social media, this includes such services as automated scheduling and management of multiple social channels; branding, optimization and set-up of all social media outlets; custom ghost-written content creation services; social media reporting and advanced insights; user-friendly social media management dashboard monitoring (with client access for an additional fee) and social media paid ads management.
Because of our strengths in all things marketing, Multiverse Media Group is a great choice amongst social media marketing companies, offering compelling reasons to use our marketing services, adds James Castro, Multiverse co-founder and creative/marketing expert. We have streamlined our process for clients that need more specific, non-encompassing services, executing a plan to reach their goals within a specific budget. From branding, optimization and set-up to content creation, content marketing and beyond, we are a one-stop shop for businesses looking for internet marketing excellence.
While clients are free to utilize any of Multiverses marketing strategies, the company also offers complete advertising services which include marketing tactics for brand positioning, copywriting that converts, website development, Search Engine Optimization (SEO), full media production, online lead generation and more. Superior quality content is at that heart of everything we do. Were media experts that produce results, thats what our clients demand from us, and thats what we deliver every day. Concludes Castro.
About Multiverse Media Group
From video production to national brand awareness campaigns, Florida-based Multiverse Media Group offers a broad client base an encompassing roster of services including video marketing, website videos, superior SEO solutions, website design, marketing, branding, content marketing, production studio facility utilization and more. The company is located at 11655 Central Parkway Suite 302 in Jacksonville and can be reached by calling (904) 701-3016.
For more information visit http://www.multiversemediagroup.com.