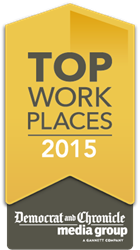 Rochester, NY (PRWEB) April 01, 2015
The Democrat and Chronicle announced that CaterTrax has been named on the newspapers annual Rochesters Top Workplaces list, ranking 26th in the small business category. CaterTrax is a leader in the catering management software industry and is the only enterprise software company on the list.
My family has been in the food service industry for generations. I worked my way up from busser, to waiter, and eventually to management. At a young age I learned how integral every role was in the success of the family business and I carried that lesson with me to CaterTrax. We strive to behave as family that empowers every team member to contribute, says Rich Rund, Co-founder and CEO at CaterTrax.
Since their start in 2004, CaterTrax has been cultivating a strong team of hungry, humble, and smart employees – affectionately called TRAXERS. CaterTrax has a growing team of 75 people and co-founders, Rich Rund and Dan Welch, have stayed dedicated to building a workforce that demonstrates hospitality that has kept CaterTrax true to its roots.
What sets CaterTrax apart is our Service as a Software approach to technology that is realized through our knowledgeable and experienced staff that knows the meaning of demonstrating hospitality. Every employee we bring on board melds with our culture and drives our success, Rich adds.
In a recent interview with Roc Growth, Rich described how CaterTraxs hiring process is the core of their business. Rich carves out time to meet with candidates to ensure they share the CaterTrax core values. After joining the team, new TRAXERS are greeted with a unique corporate culture that actively promotes education, work/life balance, and volunteering. Companywide profit sharing emphasizes how the contribution of every employee upholds the success of CaterTrax.
The Democrat and Chronicle partnered with WorkplaceDynamics, a leading research firm on organizational health and employee engagement, to survey employees in several categories. Over 8,700 workers at 77 Rochester area companies were surveyed by their employees on workplace satisfaction. The growing, self-proclaimed 10 year old start up is celebrating its first year on the list.
We pride ourselves on our ability to enable our clients with our software, but our continued success is truly realized through empowering our talented team members to make smart decisions, says Dan Welch, Co-founder and CFO at CaterTrax. The Top Workplaces award confirms our employees are thriving in the culture we are building together, which ensures we deliver hospitality inspired service to our growing client base.
For more information about the Top Workplaces lists and WorkplaceDynamics, please visit http://www.topworkplaces.com and http://www.workplacedynamics.com.
About CaterTrax

CaterTrax is the industry leading online solution developed by hospitality professionals proven to promote, grow, manage, and sustain profitable foodservice businesses. The co-founders of CaterTrax started out with a family-owned catering business where they developed efficient processes for managing large-scale food service operations. These processes became the core of our web-based solutions platform. CaterTrax was created by passionate professionals who understand the realities of managing high volume food and hospitality businesses. http://catertrax.com/
About WorkPlaceDynamics

The Top Workplaces are determined based solely on employee feedback. They employee survey is conducted by WorkPlaceDynamics, LLP, a leading research firm on organizational health and employee engagement. WorkplaceDynamics conducts regional Top Workplaces programs with 40 major publishing partners across the United States. Over the past year, more than 5,000 organizations and 1 in every 88 employees in the U.S. have turned to WorkplaceDynamics to better understand whats on the minds of their employees. Through its workplace improvement offerings, WorkplaceDynamics provides solutions, training and tools to help clients improve their workplace. http://www.workplacedynamics.com