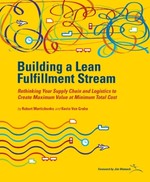 Florence, KY (PRWEB) February 14, 2013
The nonprofit Lean Enterprise Institute (LEI) is partnering with LeanCor, a third-party logistics provider wholly dedicated to lean logistics, to offer the hands-on workshops Building the Lean Supply Chain and Lean Warehousing and Distribution Operations.
Both two-day sessions take place at LeanCors Supply Chain Group Operational Center located in Florence, KY, near Cincinnati. Supply chain professionals will learn lean principles in class, then experience them in action, first-hand, in the field at LeanCor.
In Building the Lean Supply Chain, March 21-22, 2013, instructor Robert Martichenko, LeanCor CEO, will cover these critical topics, and much more:


How to calculate the critical total cost of fulfillment so you make decisions that meet customer expectations at the lowest possible total cost, no matter where costs occur in the supply stream
How to value-stream map your supply chain to uncover opportunities for cutting costs, lead times, and inventory through the use of lean principles
How to develop customer and supplier measurement systems, break down cross-functional barriers, implement pull systems for material replenishment, and establish supply-chain visibility
Extra time on the shop floor has been added to this session
Martichenko is a lean logistics veteran who received the Shingo Research and Professional Publication Award as co-author of the LEI workbook Building a Lean Fulfillment Stream.
Instructor David Graham, who spent 17 years with the North American Parts Operations Division of Toyota, where he applied lean concepts to the launch of the companys largest distribution center, will teach Lean Warehousing and Distribution Operations, March 19-20, 2013.
Hell take distribution professionals through three rounds of a hands-on simulation in which youll identify changes, implement them, and measure the impact. Among the key concepts hell cover are:
How to apply techniques such as lean storage, operational diagramming, workload planning, and visual management
How to develop small-batch work assignments, operational diagrams, and a work load plan to create a just-in-time operation based on leveled work, pull, and continuous flow
How to create the all-important standardized work for a lean warehouse
Attendees also will participate in a gemba walk at LeanCors lean distribution center
Complete details about how these workshops make supply chain, logistics, and distribution processes more efficient is at:

Lean Warehousing and Distribution Operations, March 19-20, 2013
Building the Lean Supply Chain, March 21-22, 2013
What is Lean?

The terms lean manufacturing, lean production, or lean management refer to a complete business system for organizing and managing product development, operations, suppliers, customer relations, and the overall enterprise. It requires less capital, material, space, time, or human effort to produce products and services, with fewer defects to precise customer desires, compared with traditional modern management.
Toyota pioneered lean management as a complete business system after World War II. During the late 1980s, a research team headed by James Womack at MITs International Motor Vehicle Program coined the term lean to describe Toyotas system.
About the Lean Enterprise Institute

Lean Enterprise Institute, Inc., was founded in 1997 by management expert James P. Womack, PhD, as a nonprofit research, education, publishing, and conference company with a mission to advance lean thinking around the world. We teach courses, hold management seminars, write and publish books and workbooks, and organize public and private conferences. We use the surplus revenues from these activities to conduct research projects and support other lean initiatives such as the Lean Education Academic Network, the Lean Global Network and the Healthcare Value Network. Visit LEI at http://www.lean.org for more information.